---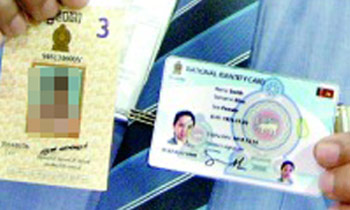 The Department of Registration of Persons has taken steps to issue smart Identity Cards by the end of June replacing the ordinary identity card, as a prelude to the issuance of Electronic Identity Cards, Registration of Persons Department Commissioner General P. Viyani Gunathilake said yesterday.
He said the old laminated Identity Cards which were used since 1972 would be replaced with the smart IDs.
"The NICs used today have been changed at several occasions according to the requirements and special needs of the country," Mr. Gunathilake.
Therefore, the department is planning to collect personal data of persons as a family unit and establish a national registry and a central database with bio data of all persons above 15 years, their biometrics and photographs obtained according to International Civil Aviation Organization (ICAO) standards, he said.
Mr. Gunathilake said, obtaining biometrics and photographs of persons would be completed by the end of June.
As the second stage, the department is hoping to register each and every individual in the country in the database register.
"For that the department is seeking the relevant legal authentications and later as the third step the Electronic National Identity card would be issued," he said.
The new Electronic ID, comprising security features against tampering, counterfeiting and forgery, will include the person's photograph, bio data, fingerprints and also the blood group. It will also conform to relevant international standards, such as those set by the International Civil Aviation Organization (ICAO). (Chaturanga Pradeep)