---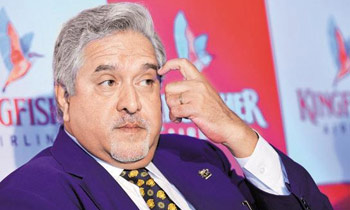 Indian business tycoon Vijay Mallya who was accused of defaulting on loans worth Indian crores has been arrested in London and will be produced in a metropolitan court today, NDTV said.
India had in February asked the UK to extradite Mr Mallya, who is facing charges of money laundering and several warrants in the country.
The Central Bureau of Investigation (CBI) sources count the arrest, which took place around 9.30 in the morning, as a big win in attempts to bring the liquor baron to justice.
Last month, the UK told India that its request had been certified by the Secretary of State.
A Delhi court last week put out an open-ended non-bailable warrant against the 61-year-old in a case of alleged violation of foreign exchange rules.
Mr Mallya left India a year ago amid attempts by a group of banks to recover around Rs. 9,000 crores in loans to his collapsed Kingfisher Airlines.
New Delhi had cancelled Mr Mallya's passport and asked the UK government to deport him to India. But initially, British officials said even without an Indian passport, he could legally stay on in London as he had a UK visa.
Mr Mallya has been charged with cheating and conspiracy by the CBI that filed a 1,000-page chargesheet against him for defaulting on a 900-crore loan taken from the IDBI bank in 2009.
The CBI probe found that 250 crore of this - given to buy aircraft parts - was diverted abroad.
Amid multiple attempts to extradite him, Mr Mallya was seen at events in the UK linked to his formula one team Sahara Force India.
In a series of tweets recently, he accused the government of holding him guilty "without a trial".