---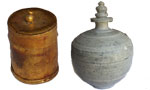 A Sri Lankan delegation led by Sustainable Development and Wildlife Minister Gamini Jayawickrama Perera left for Pakistan yesterday to take custody of the most sacred bone relics of Lord Buddha to be exhibited in Sri Lanka in view of Wesak Festival.
The Pakistan High Commission said the Pakistan government was providing the relics to Sri Lanka on the request of the Sri Lankan government under the bilateral cooperation agreement on cultural exchanges signed by the two countries.
The relics would be brought back to Sri Lanka on Wesak Poya Day and would be exhibited until Poson Poya throughout the country.
The delegation that left for Pakistan included Nugegoda Nalandramaya Chief Incumbent Venerable Thiniyawala Palitha Thera and Buddhasasana Ministry Secretary Wasantha Ekanayaka as well as several others.
The sacred relics would be handed over by the Pakistani authorities to the Sri Lankan delegation at a special ceremony to be held in Taxila today.
Four sacred artefacts and relics of the Taxila Museum in Pakistan would be exhibited in Sri lanka including two sacred bone relics of Lord Buddha, a stone reliquary shaped like a Stupa and a golden casket.
The request for the exposition of the relics was made by Sri Lankan President Maithripala Sirisena to the Prime Minister of Pakistan during the latter's official visit to Sri Lanka in January 2016.
The request was reiterated during the visit to Pakistan by a 40-member high-powered delegation of senior most Sri Lankan Buddhist monks and eminent scholars headed by the Speaker of Sri Lankan Parliament, Karu Jayasuriya and Minister of Justice, Labour Relations and Buddha Sasana Wijayadasa Rajapakshe in April 2016.