---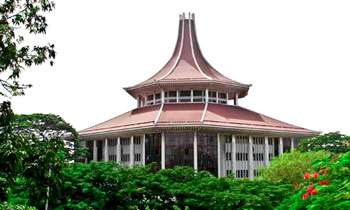 Supreme Court yesterday (9) granted Leave to Proceed with the Fundamental Rights petition challenging the Excise Notification imposing a restriction on female employees in liquor industry as discriminating against them.
The bench comprised Chief Justice Priyasath Dep, Justices Buwaneka Aluvihara and Vijith K. Malalgoda. The matter is fixed for hearing on February 6 next year.
Women's rights groups and activists are up in arms lamenting that the impugned notification is an infringement of basic Human Rights and dignity of women.
Petitioners say that the impugned notification of the Minister of Finance & Mass Media Mangala Samaraweera is to re-impose and revive most disastrously, the purported restriction/prohibition imposed on the engagement and employment of women in the manufacture, collection, bottling, sale or transport of liquor.
They also say that the restriction/prohibition that no liquor shall be sold or given to a woman within the premises of a tavern, thereby infringing the Fundamental Rights of women to equal protection and equality guaranteed under Article 12 of the Constitution as well as the right to engage in a lawful occupation, trade or business of their choice.
They state that consequent to the Cabinet decision, the Minister purportedly issued the said impugned Excise Notification.
They say that the impugned notification amounts to ex-facie and de jure (legally) gender-based discrimination, infringing the rights of adult women.
They bemoan the Minister by the said notification superseded a draconian and archaic Excise Notification that blatantly demeaned and discriminated against women.
Women & Media Collective, Centre for Women's Research, Prof. Camena Guneratne and Sulakshana de Mel (Directresses of Women's Education & Research Centre) and 11 others filed the petition.
They cited Minister Mangala Samaraweera, Treasury Secretary Dr R..H.S. Samaratunga, Commissioner General of Excise Mrs K.H.A. Meegasmulle, Attorney General and others as Respondents. President's Counsel Sanjeeva Jayawardene appeared for the Petitioners. (S.S.Selvanayagam)