---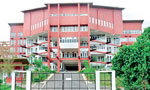 The students who passed out from the South Asian Institute of Technology and Medicine (SAITM) in Malabe are ready to face an open exam conducted by the Ministry of Health or the Ministry of Higher Education similar to the exams of State medical faculties.
This was said by a student named Tharindu Ruwanpathiranage, a student who had passed out with the first batch of students of SAITM, at a press conference held at the Neville Fernando Private Hospital where SAITM students are presently carrying out their clinical studies.
Tharindu said their parents directed them to the SAITM with the knowledge that the institution could offer him a proper education.
He raised a question from those who oppose them being registered as doctors whether more than 82% of A/L students who lose the chance to enter the medical faculty should give up on their dream of becoming a doctor in the future.
He said that if not for an organization like SAITM, a portion of the 82% listed above would be compelled to seek foreign medical degrees or lose the chance to follow their dream.
Meanwhile, the CEO of the SAITM and NFTH, Dr. Sameera Senarthne said they were willing to hold discussions with Higher Education Minister Lakshman Kiriella regarding his proposal to run the SAITM as a Public Private Partnership (PPP).
However, he said they have not yet been officially informed of this proposal of the government. (Piyumi Fonseka)