---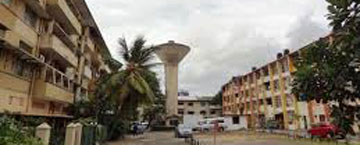 An event organized on Sunday by the Bambalapitiya flats' Welfare Association to collect signatures from residents for a memorandum to be sent to the President against the Re-development of Bambalapitiya Flats ended inconclusively.
The residents, who refused to sign the document, asked the committee members of Welfare Association how future proceedings will be carried out by the Association to urge the government to stop the proposed re-development plan.
That was when heated arguments took place between the committee members and some of the residents among who had gathered at the Community Center Hall.
Even though the committee members including the Association's president N. Ragunanthan attempted to explain the steps being taken by the Association to prevent project going ahead, about four residents continued to vehemently argue with the committee members.
The residents meanwhile, were unaware that the Cabinet at its meeting on March 2, 2016 had already given its approval to the Housing and Constructions Ministry to go ahead with the re-development project planned for the Bambalapitiya flats under a public-private partnership (PPP) agreement.
DM journo intimidated by some residents
Despite the media being invited to cover the meeting, it was unfortunate that a Daily Mirror female journalist had to undergo an unpleasant experience due to the action of some residents when she attempted to explain the Cabinet decision on the project.
She was intimidated by some of the residents who warned her not to write anything about the incidents that occurred at the meeting.
The journalist, who walked out of the meeting after realizing that it was not the best time to have a discussion with those few seemingly angry residents, but she was again intimidated by three of them, including a middle-aged woman who appeared to be leading the group of disgruntled residents.
She was even asked to erase the recorded copy on her recorder in their presence.
However, Mr. Ragunanthan who invited the media to cover their so-called meeting came to the scene and explained what had transpired to them and requested the journalist including Daily Mirror journalist to attend a separate discussion with the members of the Welfare Association on this contentious matter.
But the journalists left not being too keen to attend any other discussion.
The committee members of the Bambalapitiya Flats' Welfare Association had later apologized to the Daily Mirror journalist. (Piyumi Fonseka)