---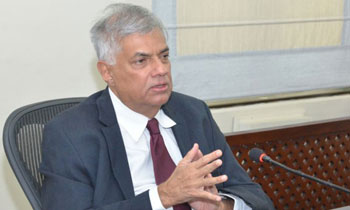 Regional Cooperation, unity and stability will be the way forward for Sri Lanka, Prime Minister Ranil Wickremesinghe said yesterday.
The Prime Minister came up with this sentiment at the 'Meet the Prime Minister forum' organized by the Organization for Professional Associations (OPA) in Colombo last evening.
"Sri Lanka is for regional cooperation however the South Asian Association of Regional Cooperation (SAARC) has not been successful in bringing regional cooperation but ASEAN, Australia, New Zealand are working towards bringing in cooperation among the nations of the Asian region and Sri Lanka should focus on it," the Prime Minister said.
"India is looking for the possibility of having a land route from Thailand to Bangladesh and Sri Lanka should focus on that development as well. Actually Sri Lanka should look at how it could get connected to India. It should determine the alternatives. However it one must remember that there is a good sea route between the two countries at the moment," he said.
The Prime Minister said Sri Lanka should take full advantage of its human resources and its geographical resources. "Indian Ocean is becoming an increasingly important region and there would be a market of two billion people from Asia to Spain which Sri Lanka could tap," he added.
Also he stressed reforms in the education system right from the schools to higher education institutions. "Higher education institutions such as Harvard and Oxford are not state owned ones but they are not profit oriented and Sri Lanka will have to look at these and come up with an effective system of education." he said in this context.
At the same time, the Prime Minister said there have been shortcomings in the agriculture sector with the non availability of fertilizer and the fall of crops as a result of drought and floods. "Sri Lanka's economy would have grown by more than five percent if there was not drought and floods last year, the Prime Minister said.
He said the most important thing is stability and unity in the country as nothing could be achieved without these two elements. (Yohan Perera)