---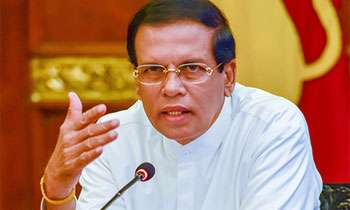 President Maithripala Sirisena has told the newly appointed Ministry Secretaries not to be pressurised into committing irregularities and unlawful acts.
The President, who handed over letters of appointments to Secretaries of 30 ministries on Friday (21), said that though there was a lot of talk about good governance, the country was yet to witness clean politics.
"We all strive for it. I believe that all of you, as Ministry Secretaries, would discharge your duties in this manner. I believe you will stand firm against efforts of those who want to commit unlawful acts. Nobody will come forward to protect wrongdoers. If anyone indulges in frauds, he will be punished. Let's strive for good governance from now on!' he challenged those present.