---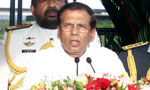 Addressing the Seventh National Ranaviru Commemoration Ceremony held before the Ranaviru Statue at the Parliament Grounds in Sri Jayewardenepura Kotte this afternoon, President Maithripala Sirisena said peace-building and promoting inter-communal harmony and reconciliation in a post conflict era was quite challenge.
The president stressed that the government was committed to provide all possible facilities, equipment, technological know-how in modern warfare, as well as foreign training to armed forces personnel in order to make them more reliable and battle hardened, but extremely disciplined soldiers.
He further said every Sri Lankan observed and honoured the war heroes who made supreme sacrifice, and even lost their limbs in the battle field. While stating that the heroes fought for territorial integrity, sovereignty, peace as well as 'sorrow' and 'pride,' he said sorrow stood for the sacrifices made and pride for the complete eradication of separatist terrorism from Sri Lankan soil.While mentioning that the entire nation paid their utmost respect, condolences, and appreciation for all war heroes and civilians who lost their lives during war, President Sirisena said the families of war heroes too deserved much gratitude. He said the strength and spine of a country were the armed forces. Even the UN had accepted this policy and encourages governments to build strong and disciplined forces, he added.
"Winning hearts and building religious and communal harmony are not easy, especially following a long drawn civil war. In order to achieve absolute peace, we need to work towards sustainable peace and promotion of reconciliation among all communities. A feeling for the humanity among people, public officials and politicians was essential to contribute their part in this endeavour," he stressed.
President Sirisena said there have been religious, ethnic and social and regional unrest for hundreds of years. Making broken hearts united was not easy, he said adding that racial and social unrest had a long history in Sri Lanka.
It had happened before and after the independence, the president said.
"The detractors of the government carried posters to racially motivate people during the recent past. They attempted to convince people that the government was discriminating against war heroes. But, people have not forgotten how they treated the military leader, the top war hero who led the armed forces for the ultimate victory against the separatist terrorism. They put him in jail after a pseudo military trial with fabricated charges. This is how they treated war heroes," President Sirisena recalled.
While National Ranaviru Seva Authority Chairperson Anoma Fonseka made the welcome address, Prime Minister Ranil Wickremesinghe, Speaker Karu Jayasuriya, Field Martial Sarath Fonseka, armed forces commanders and Police Chief and Ministers were present at the ceremony. (Sandun A Jayasekera)