---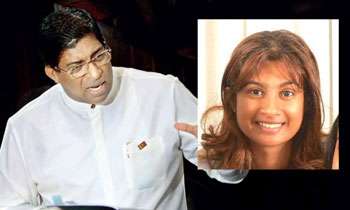 Colombo Chief Magistrate Lanka Jayaratne yesterday ordered MP Ravi Karunanayake's daughter, Onela Karunanayake to submit details of the director board of Global Transport Logistics (GTL) to the Criminal Investigations Department (CID).
It was earlier reported that the GTL is a company which MP Ravi Karunanayake's wife and daughter were directors.
When the case was taken up in Courts, the Magistrate ordered the CID to record a statement from Mr. Karunanayake's daughter yesterday or some other day.
The Colombo Chief Magistrate last Friday ordered Onela Karunanayake to appear in Courts on Monday (12) considering a motion filed by the CID.
During the proceedings, Senior State Counsel Lakmini Grihagama supporting the motion filed by the CID said Onela Karunanayake was asked to report to the CID to record her statement in connection with the investigations into the bond scam.
President's Counsel Shavendra Fernando appearing with Sajeewa Jayawardena for the two lawyers who had accompanied Ms Onela said she had gone to the CID on October 29 on a request by the CID to make the statement. But without recording her statement the CID had asked her to come on another day.
She had reported to the CID on November 5 with attorneys Aravinda Gamage and Amila Pieris.
The counsel said a person introducing himself as the receptionist had asked for the names of the two attorneys and refused to allow them to accompany Ms. Karunanayake. Thereafter, Ms Onela after spending some time at the CID premises had returned home. (Yoshitha Perera)
Video by Prasanna