---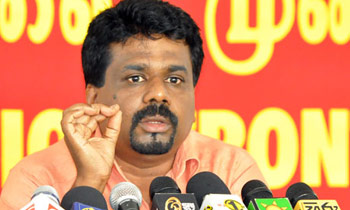 The Janatha Vimukthi Peramuna (JVP) today accused the Lanka India Oil Company (LIOC) of illegally holding on to the oil tanks in Trincomalee.
Party leader Anura Kumara Dissanayake told a media briefing that this was clear when considering the Cabinet paper submitted by Petroleum Resources Minister Chandima Weerakody last year.
"According to this document, the Sri Lankan Government and the LIOC should have signed a tax agreement within six months after handing over the tanks in Trincomalee. However, that has not happened. In such a scenario it is obvious that the LIOC is holding on to the tanks illegally," the MP said.
"Between 2005 to 2009 the CPC has paid the LIOC Rs 692 million as taxes while the LIOC has paid only Rs.75 million. "This is like renting a house for Rs.100,000 a month and obtaining a room from the tenants at a monthly rental of Rs.1 million," he said.
He said Prime Minister Ranil Wickremesinghe had meanwhile submitted a Cabinet proposal to hand over the oil tanks in Trincomalle to a public-private company with India despite what's happening with the oil tanks. The MP said National Policies and International Trade Minister Malik Samarawickrama was due to finalise an agreement with India by the end of this month.
"We will join the trade unions to defeat the moves being made by the government to handover the oil tanks in Trincomalle to this company," he said.
Citing reasons to oppose this move, the JVP leader said the government would be able to save Rs.618 million annually if it distributed oil to filling stations in Anurdhapura, Polonnaruwa and the North from Trincomalle instead of transporting oil form Colombo as done currently. (Yohan Perera)
Video by Buddhi