---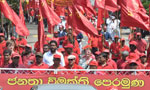 The Janatha Vimukthi Peramuna (JVP) today vehemently denied the reports which said the party is cracking as a result of divisions among its top brass.
"Some interested parties have created a false story that our comrades Tilvin Silva and K. D. Lal Kantha had fallen out with me and there will be another division in the party but we strongly denounce these claims as there is no divisions among us ," JVP leader Anura Kumara Dissanayake said today.
"We know who is behind this campaign of spreading false stories about our party and we will expose them shortly," Mr. Dissanayake added while highlighting that there are media personnel who are also behind the publication of false stories. He actually went on to mention the name of some journalists stating that they have also been behind what he called is a political exercise.
Mr. Dissanayake said certain forces in the Joint Opposition who had lost the privileges they enjoyed during the last regime are leading this plot.
JVP General Secretary Tilvin Silva said this political exercise has been launched by the Joint Opposition to prevent his party from performing a major role in the opposition and winning the hearts of the people. "These forces has made an unsuccessful effort to bring down the JVP but our party will be more strengthened by this incident and will carry out the duty of an opposition party with more zest," he said.
JVP Politburo Member K. D. Lal Kantha said this incident had proven that certain sections of the media had suffered the same fate of Sri Lankan politics. " They say Sri Lankan politics have become like a pile of garbage but this incident has shown that certain section of the media had also become the same," he said.
JVP Propaganda Secretary and Member of Parliament Vijitha Herath threw a challenge to those who say that there are divisions in the party to prove it. (Yohan Perera)
Video by Janaka