---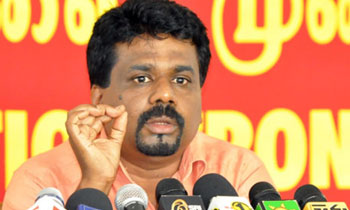 The Janatha Vimukthi Peramuna (JVP) said today they would hand over a no-confidence motion to Speaker Karu Jayasuriya against Provincial Councils and Local Government Minister Faizer Mustapha tomorrow.
JVP Leader Anura Kumara Dissanayake told the media at the parliamentary complex that the stay-order on the delimitation gazette had proved that the minister had not carried out his duties properly.
He said the delimitation committee was appointed by the minister under the powers vested in him and added that if the committee had acted beyond its powers, it was not ethical for the minister to gazette a report prepared by it.
Mr. Dissanayake said they could not accept the fact that the minister was unaware about the legalities because he was a President's Counsel.
"This is something done purposely to delay the elections", he said and when asked if they supported the joint opposition's no-coincidence motion, he said they would have to first take a look at the contents of their no-faith motion. (Ajith Siriwardana)