---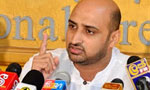 The National Freedom Front (NFF) said today the Government was on a mission to handover the administrative power of Sri Lanka to a corrupt American company identified as Mckenzie under the guise of handling the country's special projects management.
NFF media spokesman Mohamed Muzzamil said the Government had planned to hand over country's special projects management through a Cabinet proposal by way of a contract worth Rs.338 million.
"According to the reports we have received McKenzie is a corrupt company in America. This company was reported as a company which leaks client information to other parties for financial gain," he said.
Mr. Muzzamil said this company had even leaked confidential information to Raj Rajaratnam, a billionaire who was allegedly involved in money trafficking in connection to the LTTE.
"This company is known to have leaked confidential information of the British royal family to several companies," he said adding that the Government was responsible to administer the country even though the current rulers have attempted to hand over the country to foreign forces. (Kalathma Jayawardhane )