---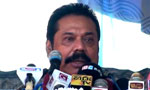 The government was deliberately delaying the implementation of the development projects proposed by the UPFA government so that it could later claim that the projects were its own, alleged former president Mahinda Rajapaksa today.
Addressing a group of journalists at Weerawila, he said the government was attempting to claim the ownership of such development projects but that the people knew who was really responsible for them.
He was referring to a visit to Hambantota by the Prime Minister to inspect the work begun on an industrial park by a Chinese firm. "This is something we proposed but could not launch it because of the government change. The government keeps delaying this and other projects and then launches them thinking the people have forgotten whose projects they were," he said.
Mr. Rajapaksa also said that though the government criticised the Hambantota Port and Airport, both proved to be essential today." It takes time for such big projects to generate income," he said. (Sanath Desmond)
Video by Roshan Gunasekara