---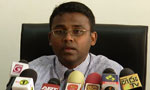 Despite President Maithripala Sirisena's personal concern on eradication of tobacco from the country, the government is slow in reinforcing legal framework to minimize the consumption of cigarette among the citizens, Government Medical Officers Association (GMOA) today said.
While extending their support to the government against the cigarette menace, the government doctors yesterday sent him a set of proposals prepared by the GMOA to make policy decisions towards a legal framework.
Among the ten proposals prepared according to the World Health Organization's Framework Convention on Tobacco Control (WHO FCTC) the doctors request the President to ban selling of cigarettes separately, introduce licenses for the permitted places that sell cigarettes and apply a warning sign on the surface of every cigarette.
The GMOA proposal required amendments of the National Authority on Tobacco & Alcohol (NATA) Act to completely prohibit smoking in public.
GMOA Media Spokesman Dr. Saman Ananda, presenting the proposals before the media said laws and regulations should be introduced to ban any promotion activities carried out by multi-million Tobacco Companies under the guise of charity work.
Mobile message service network to communicate the public on hazards of cigarettes was also among the proposals.
"Digital notice boards should be set up to strengthen public awareness on cigarettes menace. We also propose that the government should encourage those who voluntarily present themselves to give up smoking by properly implementing the existing hotline service. The number of cigarette users can also be reduced by enhancing the current pictorial warnings on cigarette packets," Dr. Ananda said.
According to the government doctors, more than 4,800 chemicals are in a cigarette. Among the 4,800 chemicals, more than 250 are highly poisonous and 69 of them cause cancer.
The GMOA stated that if the tax on cigarettes is increased up to 90%, the government will earn close to Rs.12 billion revenue.
However, the Cabinet approval has not yet been included in the Cabinet Paper to increase taxes on tobacco and alcoholic products presented by President Sirisena and Health Minister Rajitha Senaratne, six weeks ago.
According to an earlier statement made by the President, over 35 per cent of the income of underprivileged families in Sri Lanka was spent on tobacco and alcohol, while around 25,000 people die of tobacco-related diseases in Sri Lanka per year. (Piyumi Fonseka)