---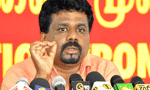 The Janatha Vimukthi Peramuna (JVP) alleged yesterday that the government was planning to sell key government institutions such as SriLankan Airlines, Hambantota Port, the Eastern Terminal of the Colombo Harbour, Mattala Airport, and Lanka Hospitals citing they were inefficient and loss- ridden.
JVP leader Anura Kumara Dissanayake said it was an utter lie to claim that they were being sold due to their inefficiency and loss-ridden state and added that it was due to the inefficiency of the economic policy of the government.
"The government should take the responsibility of making government institutions inefficient and loss making. All the government institutions such as police and divisional secretaries are inefficient. Are they going to sell them too?" he asked.
Speaking at a public seminar held at the Public Library in Colombo on "Trading, Sacrifice and ETCA", Mr. Dissanayake said the government's only solution to the economic crisis had been to sell and sacrifice government institutions and further expose service sector through ETCA.
He said the government should take control of fair share of key sectors such as finance, energy and electricity as our economy was considerably small and added that the government was doing the complete opposite instead.
"The government has already planned to sell Hilton Hotel, Trincomalee Oil Tank Farm and Kalpitiya islets. Plans were afoot to rent out 15,000 acres in Hambantota saying that it is for an industry," he said.
Mr. Dissanayake said they were completely against the exposing of Information Technology (IT) field through ETCA.
"We are in a similar state with India when compared to IT sector. We do not need Indian IT experts as we have our own internationally recognised experts. I do not think the first class IT experts would come to Sri Lanka but only third class IT experts would come here and put the job security of our experts in jeopardy with their cheap labour. This would result in our experts migrating to European countries,' he said.
He said what Government should do was not to expose our IT sector to India but to expand it which had an unlimited scope for development.
Mr. Dissanayake said the Rajapaksa faction were creating a bugbear of re-emerging of the LTTE and enacting of a Constitution which would divide the country to show their patriotism and cover up their fraud and corruption while the government was also had given prominence to the new Constitution to cover up their inability and failed economic policies. (Ajith Siriwardana)