---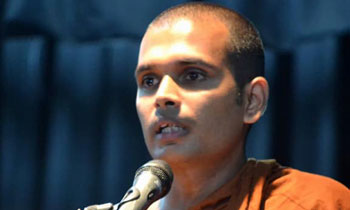 The Joint Association of Unemployed Graduates Convener Thanne Gnanananda Thera has said he will complain to the Human Rights Commission (HRC) tomorrow about the Uva Chief Minister Chamara Sampath Dassanayake having attempted to assault him.
The monk said new evidence with regard to the incident where the Uva CM had attempted to assault him sometime ago had cropped up, paving the way for him to seek the help of the authorities.
He told Daily Mirror that he and several members of the association members met the CM some three months ago to request for a discussion on the issues faced by teachers in the Uva Province.
The monk said he was threatened and he and the association's members pushed out the office.
He said though the police were at the scene they were of no help and no complaints made at the the time because of the lack of evicence.
"We were surprised to see that someone had recorded the entire incident and had released it to social media websites though it was somewhat late. With the video footage showing what exactly happened and the CM's behaviour at the time, we thought of filing legal action against him," the Thera said.
He said CM's behaviour was tarnishing the image of the government.
The Thera said right to employment, health and education was a fundamental right and the people have a right to fight for their demands if the authorities failed to fulfil them.
He said there were more than 50,000 unemployed graduates in the country therefore they would not rest until those graduates received what they deserved. (Thilanka Kanakarathna)
Video by Buddhi