---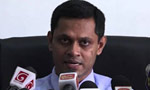 Claiming the number of political interferences is daily increasing within the Ministry of Health, the Government Medical Officers Association (GMOA) today urged President Maithripala Sirisena to appoint a new, qualified Minister to the Health Ministry instead of Minister Rajitha Senaratne.
The GMOA called on the President to take the Health Ministry under his purview if a qualified person couldn't be found.
Speaking at a media briefing held in Colombo, the GMOA General Secretary Dr. Nalinda Herath said the international recognition sought by the Health Ministry of Sri Lanka for its standard service, would be lost at this rate owing to the arbitrary decisions made by Minister Rajitha Senaratne.
GMOA Spokesman Dr. Navin de Soysa alleged vehicles and medicines belonging to the Ministry of Health, were allegedly used by the elder son of Minister Senaratne allegedly for relief work for flood victims.
"He had pasted his stickers on medicines that were distributed to flood victims. How come they can use Ministry's medicines and vehicles as their wish? For the sake of his father, who is the Health Minister, he tries to interfere with Ministry's matters," Dr.de Soysa said.
According to the GMOA, Minister Senaratne's wife had also attended meetings of the Health Ministry, representing the Minister. (Piyumi Fonseka)