---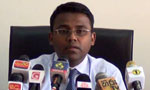 Government doctors would hold a token strike at main State hospitals in Kurunegala, Kandy and Matara today from 8 a.m. to noon over an anomaly in admitting Government doctors' children to State National Schools, the GMOA said today.
"About 200 doctors are waiting in the auditorium of Education Ministry, requesting a meeting with Minister Akila Viraj Kariyawasam. But, the minister has refused to hold a meeting with the doctors" Dr. Haritha Aluthge of the GMOA said yesterday.
He said some doctors were transferred every four years according to the special transfer scheme and some doctors go for overseas training, and hence find it difficult to show five-years of permanent residence to get admissions into National Schools for their children.
The GMOA charged that many arbitrary activities were taking place at the Ministry including the doctors' children school admission issue.
They also said as flexible person should hold the post of Education Minister, instead of the incumbent minister.
According to the GMOA, more than 200 children of Government doctors had been deprived of admission to State-run National Schools this year.
Meanwhile, the Education Ministry issuing a statement said, the GMOA misled the general public by twisting the facts with regard to the National School admissions.
It called the doctors selfish because what they demanded admission only to their children to the best and famous schools.
"The GMOA is demanding admission for 12 famous and most competent schools in the country including Royal College, Ananda College, Visaka Vidyalaya in Colombo district, Dharmaraja College, Kingswood College, Mahamaya Vidyalaya, High School in Kandy district and Maliyadewa College in Kurunegala," it said.
The Ministry said the demands of the Government doctors were unacceptable and unfair.
The Ministry also requested the Government doctors not to use their profession a weapon to fulfill unfair demands. (Piyumi Fonseka)
Video by Rishan