---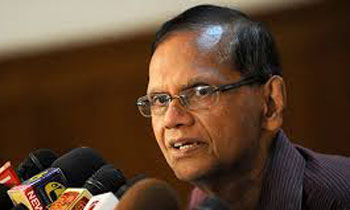 Sri Lanka Podujana Peramuna (SLPP) Chairman G.L. Peiris yesterday said it was questionable that President Maithripala Sirisena had not removed Foreign Affairs Minister Ravi Karunanayake yet as Foreign Minister despite having the authority to do so.
Peiris told a news conference that President Sirisena should immediately remove Minister Karunanayake from his post.
"It is evident that the Government is taking a long time to arrive to a decision on the No-Confidence Motion against Minister Karunanayake. There is no reason to take time. A decision should be immediate in this regard," he said.
Meanwhile, he charged that not only Minister Karunanayake but also several other bigwigs were connected with the alleged Central Bank's bond sale controversy.
"Initially, Prime Minister Ranil Wickremesinghe has taken over the authority of the Central Bank under him even though it is illegal," he added.
Commenting on the proposed 20th Amendment to the Constitution, Peiris said that the Government should go for a referendum even though it would get approved in Parliament with a two-thirds majority.
He said that he would file a petition in the Supreme Court to conduct a referendum in this regard. (Kalathma Jayawardhane)
Video by Susantha