---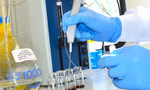 A new forensic laboratory would be established within this year for the use of the Sri Lanka Police to help sleuths to analyze evidence during their investigations, DIG Priyantha Jayakody said last week.
This move coincides with the 150th Anniversary celebrations of the Sri Lanka Police.
DIG Jayakody said the setting up of a forensic laboratory was an idea mooted by IGP Pujith Jayasundara, who encouraged his officers to utilize the latest technology in police investigations to ensure accuracy in their findings.
Accordingly, when the new laboratory is established, the police would have facilities such as obtaining latent impressions, DNA, serology, digital evidence, and the ability to obtain, trace and analyze substances and examine biological samples at their disposal to be used in criminal investigations. (Piyumi Fonseka)