---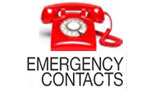 In view of the worsening weather across the country, an emergency Operations Room (Ops Room) functioning around the clock has been established at the Office of the Chief of Defence Staff (OCDS) at building No 5, BMICH, Bauddhaloka Mawatha, Colombo 7 with effect from today evening on a directive issued by the Ministry of Defence.
The public are hereby requested to contact the Ops Room at OCDS in the event of any incidents related to emergencies on following telephone numbers:
Office of the Chief of Defence Staff Tel. Nos.: 0112674502 (Emergency Relief Ops Room), 01126674503, 0113075792, 0113070275, 0113818612.