---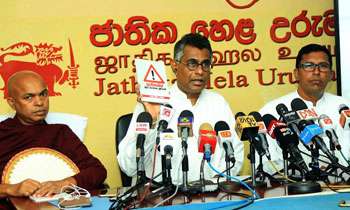 While introducing an 'economic package' to face the current economic crisis, Jathika Hela Urumaya (JHU) General Secretary, Megapolis and Western Development Minister Champika Ranawaka said the crisis could be turned into a blessing and could be overcome if the proposals could be adopted.
Addressing a press conference held at the JHU head office yesterday he made this remark.
In order to rescue the depreciating rupee Minister Ranawaka said that the Country's exports should be doubled.
"There are free trade zones every corner of the country. But there are no investors to invest on those. Without just implementing free trade zones for each village, we must create strong zones based on new innovations," he said.
Minister also said that there are around two million Lankans living abroad and if the Government can request them to invest in Sri Lanka USD 1,000 each there will be no trade deficit.
He also said the capacity of the ports and the airports had been exceeded therefore they should be expanded in order to earn more dollars.
He further said that those who earn dollars from exports should be given special concessions for their imports.
Minister Ranawaka said that measures should be taken to prevent concealing income from imports and exports by 'over and under invoicing',"
He proposed that the investors bringing over USD 100 million should also give special concessions under steady tax policy in order to encourage them more.
Minister also said that he was the first who shot the warning fire on today's economic crisis in June 2016 and the same crisis could be a blessing if we work according to the proposed economic package.
He requested the President and the Prime Minister to give priority to these proposals in order to overcome the situation. (Thilanka Kanakarathna)
Video by Buddhi