---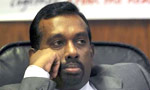 The Bribery Commission today filed action against former Sports Minister Mahindananda Aluthgamage for allegedly using state funds to import game boards worth over Rs.53.1 million to be distributed in the run up to the 2015 Presidential Election campaign.
The Commission filed charges against the former Minister and the Storekeeper of the Sports Ministry Nishantha Gunasekara at the Colombo Chief Magistrate's Court under case number 59720/1/2016.
According to Bribery Commission sources, Aluthgamage had ordered the Cooperatives Wholesale Establishment (CWE) to purchase a stock of Carom Boards and Draughts Boards worth the said amount on behalf of the Ministry of Sports.
Accordingly, 14, 000 Caroms Boards and 11, 000 Draughts Boards had been imported from India during the period between September 01, 2014 to December, 2014 in five shipments.
In the Bribery Commission probe disclosed that the Sports Ministry Storekeeper Nishantha Gunasekara had signed the papers acknowledging receipt of the consignment of game boards to the Ministry's storeroom but it had not reached there.
Instead the consignment had been sent to a private warehouse at Mabima in Biyagama where most of the goods to be distributed in favour of former President Mahinda Rajapaksa's 2015 Presidential Election Campaign had been stored, the sources said.
The game boards, which were initially imported to be distributed among schools and youth clubs countrywide had been distributed in the election campaign to encourage the supporters, the sources further said. The case will be taken up on September 27. (Kurulu Koojana Kariyakarawana)