---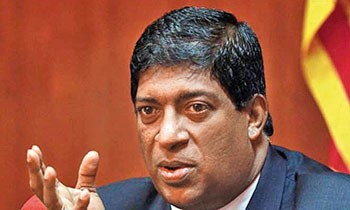 Foreign Affairs Minister Ravi Karunanayake speaking to the media after testifying before the Presidential Commission appointed to probe the Central Bank bond issue said that the Attorney General's Department was hell-bent on tarnishing his image by calling him before the Commission.
Minister Karunanayake also claimed that certain media houses had tried to hang him without trial but he was able to prove his innocence before the Commission yesterday (2).
"Certain media houses tried to hang me even without a trial. I proved them wrong. I have to say that the officers of the Attorney General's Department are also trying to tarnish my image and capitalize on it to climb the ladder. They have created a situation where we now find it difficult to have any privacy. We came to power to restore a good governance and run a clean administration. I am one of those that contributed greatly towards this effort. I maintained a clean administration in the Finance Ministry."
"These are consequences of certain misdeeds carried out by our own fellow politicians. That is the biggest challenge I have ever faced. I can say at this moment that the truth will come out soon. It cannot be concealed. Some media institutions have also tarnished my image for no reason. It is now upto you to correct this injustice. What I have revealed here will be proved. I ask you to look into this. A wrong impression has been created with regards to the ownership of a penthouse. I had my home in close proximity to Parliament even before I entered politics. These are not new things," he said.
He charged that the Attorney General's Department was chasing after those who were pursuing good governance instead of going after thieves. "I am happy today because the Attorney General's Department was able to question a powerful minister of this government. What could have happened if this had occurred during the reign of the previous regime? They would have gone in white vans. We were harassed when we were in the Opposition. When we came to power, our character is assassinated. What have we done wrong? I answered all the questions truthfully. I have nothing to hide," he said.
Responding to a question raised by journalists that he had told the commission that he had not known about Arjun Aloysius paying the rental for the penthouse for nine months, the minister said that was a lie. "That is not what I said", he said.
"It is something my family bought temporarily. When it was revealed in Parliament, We revealed the true story. It is only then that it became news," Karunanayake said.
When asked if there was a case of conflict of interest in all of this, he said there was no conflict of interest and added that it wasn't he who had bought the penthouse in question.
When journalists questioned as to what difference it made whether it was him or his asked if his family that bought the penthouse, he answered "no payment was made. They reimbursed the payment." (Ajith Siriwardana)