---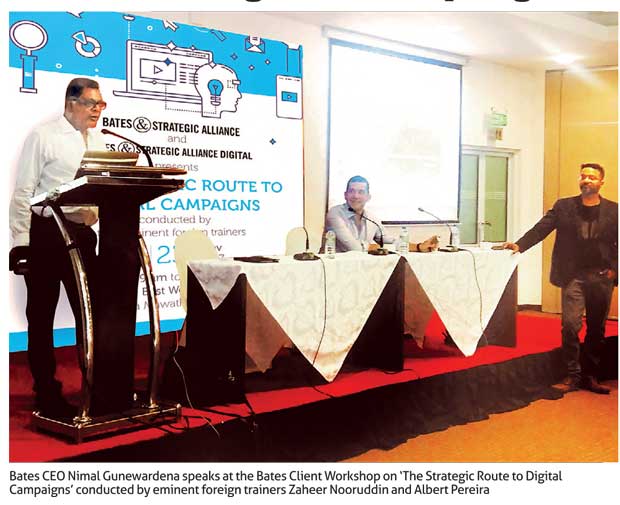 Exploring the transformation taking place in the digital landscape, Bates Strategic Alliance, the pioneering integrated communications agency, recently hosted two thought-provoking workshops on 'The Strategic Route to Digital Campaigns' for their clients and internal teams featuring two eminent foreign speakers Zaheer Nooruddin and Albert Pereira.

Regarded as one of the region's most experienced digital marketers and a futurist, tracking marketing technologies and trends in Consumer Experience (CX), Zaheer Nooruddin shared insights from his nearly two decades of work experience in digital across global markets at digital, creative and PR agencies and in his current role in Hong Kong as Head of Digital Transformation with a global marketer. Albert Pereira, with similar experience in digital, creative, PR and mobile in the UK and regional markets of China and India and a currently the Founding Director and Chief Strategy and Digital Officer of Mio, a digital consultancy, and a trainer running digital courses in India, partnered in the workshops.

Addressing participants at the event, Bates Strategic Alliance Chairman and CEO Nimal Gunewardena stressed on the significance of the workshops in both showing a structured and strategic route to digital and social media campaigns and enhancing the value and capability of his IMC agency in leading the move to digital. He said: "As the creative custodians of our clients' brands, and an agency combining creative, PR and digital, we are in the best position to integrate brand communications in what is growing to be the mainstream engagement medium of the future. With our name and heritage as a strategy driven agency, we will adopt these learnings and methodologies to drive digitally-led campaigns based on the consumer decision journey."

Both trainers, who have in fact worked in digital roles with Burson-Marsteller, the global PR network that Strategic Alliance represents, discussed ways participants could leverage and explore opportunities in driving digital platforms not only for brand building, content marketing and consumer engagement, but also in the increasingly important area of customer relationship management and dealing with PR issues that play in the social media realm.

Elaborating on how the world views digital, Zaheer said, "Disruption is key, it's happening world over and even in Sri Lanka. The most important thing is a change in the mindset. Shift your mindset and get clients to shift theirs. Leadership has to come from the agency." He stressed: "Digital is now a mainstream platform, not something on the side. Digital is part of the DNA on how we will live, communicate and construct campaigns in the future. The strategic route is through integrated customer-oriented campaigns, building a 360-degree view of the customer, and taking a holistic approach on how we tap into the customer's decision-making journey, to create a strong brand narrative."

Advising the agency team, Albert noted: "Through our work we need to show that we know even more than what our clients know and traditional research provides about their consumers – we need to spend time on tracking and listening to their consumers on social media, and that itself will change the game. Look at the conversations and the brand print on-line. Understand the broad framework that digital communication provides and then consult with the client, starting a strategic conversation on what works and what does not. You can convert the client into becoming a true believer in digital, being open to the agency's expertise and ideas and putting more into digitally driven campaigns" he added.

Interesting strategic viewpoints on the purchase funnel, campaign design, campaign and persona mapping were also discussed. Both trainers discussed the trends and contemporary practices currently influencing the digital sphere and used several interesting and thought provoking videos, case studies and tools to present their views. Bates clients were totally taken up with the client workshop and had lots of praise for the trainers and expressed their desire to work more with the Bates team on driving integrated, digital-led campaigns.