---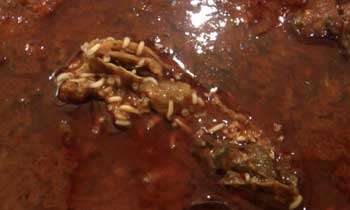 Embilipitiya Magistrate K.P.R.L Widanagamage (Ms) ordered on Saturday (26) to release a Manager of a festival hall in Embilipitiya New Town on surety bail of Rs.100,000. He had served chicken curry with live worms for lunch at a wedding party.
According to a complaint received by the Chief Public Health Inspector of Embilipitiya Urban Council, Harsha Abeysinghe, the Health Officers have taken the bowl of chicken curry with live worms at a raid carried out on Friday afternoon (25) .
This complaint had been made by a doctor who had attended the party and it has been mentioned in the complaint made to the court that there were worms wriggling in a piece of meat.
It has been revealed at the investigations made by the Health Authorities that the chicken pieces are separately fried and packed in the trays of a refrigerator and later these pieces are added to a separate curry as required.
This case is scheduled to be heard on February 1, 2019 again. (Ajithlal Shantha Udaya and Jayanatha Nanayakkara)