---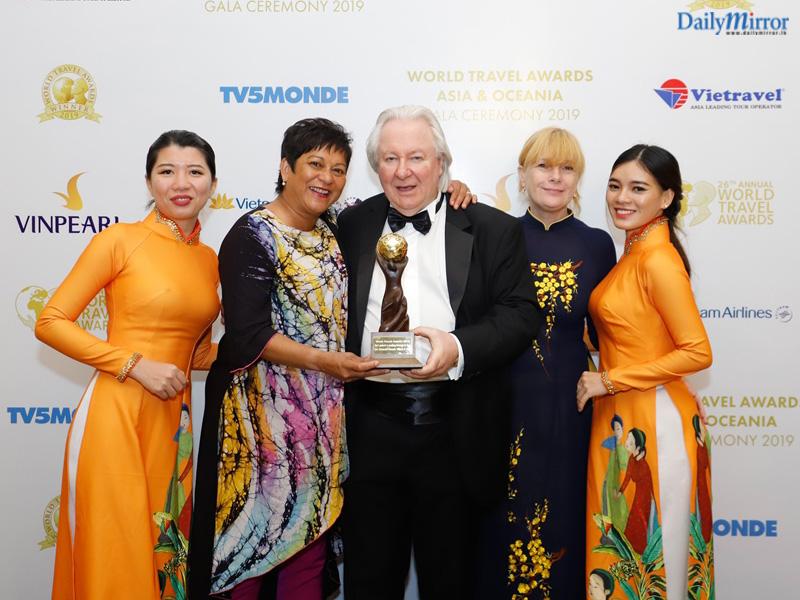 WTA President Graham Cooke (centre) presenting the award to Ravini Perera, Partner at Sri Sharavi Beach Villas & Spa. Also present is General Manager Marcy Vale (second from right)
Situated along the stretch of sandy beaches in the island's southern coast, the breathtaking idyllic beachfront Sri Sharavi Beach Villas & Spa was recently named Sri Lanka's Leading Resort and Spa at the prestigious World Travel Awards (WTA) 2019.
Held on the 12th of October at the state-of-the-art Vinpearl Convention Center in Phu Quoc, Vietnam, the Asia & Oceania Gala Ceremony recognized and rewarded some of the most fabulous travel and tourism brands in the region. The event was the sixth and final regional leg of this year's WTA Grand Tour.
WTA which celebrates its 26th anniversary has evolved globally to become the ultimate hallmark of industry excellence with its annual series of regional gala ceremonies. This year's grand final is scheduled to be held at Muscat, Oman in November.
The Mirissa-based villas offer guests absolute exclusivity and tranquility with a distinctively elegant contemporary retreat and luxurious design inspired by sisters Sharlyn Stafford and Ravini Perera. The villas are themed in Topaz, Aquamarine, Amethyst and Peridot, signifying country's precious gemstones.
With a blend of timeless elegance and modern comfort, it features four private two-storied luxurious boutique villas, each with three double suites and ensuites, having its own private balcony or terrace. Each villa has a personal butler dedicated exclusively to its guests. The ground floor includes the Palm Double room and the first floor features the two suites - the Ocean Signature and the Superior Deluxe Suite.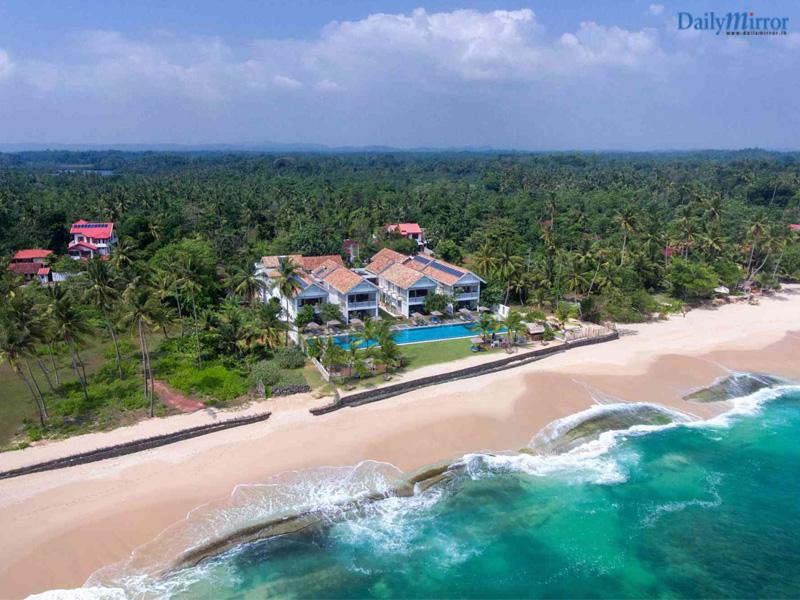 The Ocean Signature Suite offers a magnificent 180-degree view of the Indian Ocean while the Superior Deluxe Suite has a sea view framed within a landscaped pathway. Both suites have king sized beds plus a lounge area, with a walk-in closet and a very spacious bath space. The Palm Double Room has the option of two twin beds or a king size bed and the room opens to a private garden terrace.
The main floor of each villa has an open air living and dining space, plus a terrace. The villas also have two individual Standard Double rooms; a stunning 45-metre salt water infinity pool overlooking the ocean; a boutique; an in-house spa, among other gives guests the perfect getaway.
Its gastronomy features a variety of fresh delicious seafood and international cuisine with a Sri Lankan twist. An on-site chef prepares personalized a-la-carte meals and guests can choose to dine inside the comfort of their own villa or private terrace, or on one of the two beachside decks. They could also indulge in an interactive cooking lesson with the chef to explore and learn some of the country's most flavorful rice and curry dishes.
Sri Sharavi Beach Villas & Spa is an eco-friendly hotel that takes great pride in its sustainable business practices such as solar power and energy-saving appliances among others. 'Sri' translates to 'radiance' and 'Sharavi' connotes a timeless 'bliss of soul', in the original Sanskrit. Sink into luxurious bliss at Sri Sharavi and let your spirit soar. For more information, visit www.srisharavibeachvillas.com or email our Sales and Marketing Manager Ruwi Jayasinghe via ruwi@srisharavibeachvillas.com.