---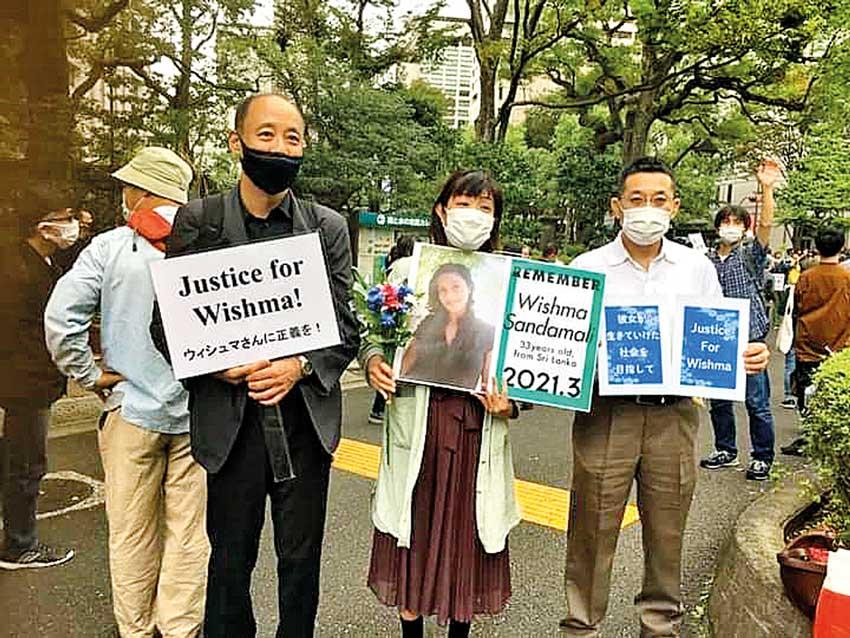 Her health continued to deteriorate during the stay. Until her death, the authorities suspected she was faking an illness to request for a provisional release
The country was pushing through a controversial set of reforms to its Immigration Control and Refugee Recognition Law to make it mandatory to deport refugees if their applications for the right to stay are rejected twice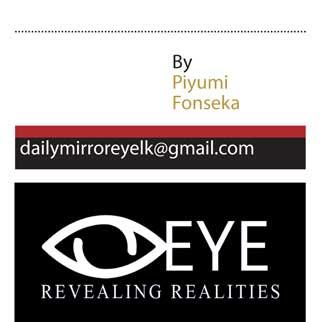 Japan has long been internationally criticised for its refugee recognition and its prolonged detention of foreign nationals seeking asylum or overstaying their visas. That is how Sri Lankan woman, 33, Wishma Sandamali was also held in a detention center in Nagoya until her death. She died in March, this year after being detained since August last year for overstaying her visa.

Wishma, an English teacher in Sri Lanka, flew to Japan in 2017 on a student visa. She sought police help after fleeing from a domestic violence experience in August 2020. After officials found out that her visa had been expired, she was placed in detention at Nagoya Regional Immigration Bureau.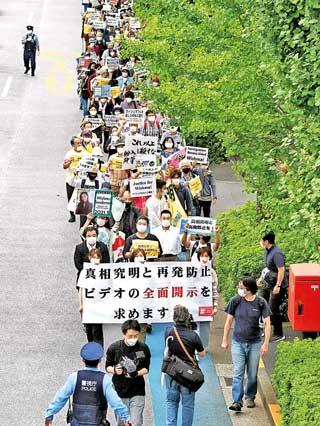 Her health continued to deteriorate during the stay. Until her death, the authorities suspected she was faking an illness to request for a provisional release. The final report published by the Japanese Immigration Services Agency (ISA) into her death admitted that immigration officials had failed to share details about her illness and that staff showed a lack of awareness of human rights.

What did her death do in Japan? How did her case cause a significant turning point for a country that has long kept its policies very strict towards refugees and asylum seekers?

People took to the streets, demanding justice and changes
Hundreds of Japanese people gathered for Wishma. They took to the streets, demanding more information on how this Sri Lankan women died and action against responsible parties. Repeated demonstrations and protests took place in many cities in Japan including Tokyo, Nagoya and Osaka. A petition was submitted with more than 93,000 signatures, demanding the release of all security camera footage of Wishma.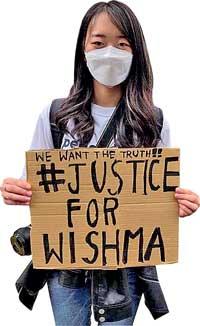 Her two younger sisters Poornima and Wayomi flew to Japan a few months ago to perform last rites for their sister. That is when they received immense support from Japanese activists and organisations to fight for justice for Wishma.

Although the reports by the ISA found out the problems with the staff at the facility, the probe could not determine the cause of Wishma's death. It took five months after her death for the CCTV footage from the immigration centre to be finally disclosed to the family after many requests. The Daily Mirror in a previous article revealed how some documents provided by the ISA to the family related to her case had several factual errors as well.

Wishma's family alleging the Japanese Immigration Bureau for wilful negligence, did not stop their battle. Her family two weeks ago filed a criminal complaint against Japanese immigration authorities, accusing them of failing to provide Wishma with adequate medical care.

Wayomi Nisansala, one of Wishmas's sisters told the Daily Mirror that they are not satisfied with the actions taken against those who are responsible for Wishma's death and they wanted to push Japanese prosecutors to look further into the circumstances of her death. The complaint was filed against several senior executives, including the head of the detention facility where she was held, along with officers who were in charge on the day she died.

Asylum bill withdrawn as pressure built
The country was pushing through a controversial set of reforms to its Immigration Control and Refugee Recognition Law to make it mandatory to deport refugees if their applications for the right to stay are rejected twice. The proposed revisions also included strict provisions for provisional release, including a ban on paid work.
It was during the same time that the public outrage in Japan reached a point where news items on Wishma's death were telecast on every channel almost every day. Even on the day, the bill was taken up in Japanese Parliament (the Diet), rallies took place with hundreds of participants, while holding banners and photos of Wishma. Protests which continued for several months, forced Japan to withdraw the controversial bill.

Relief for foreign nationals, detained for years for overstaying visa
According to government data, as of late 2020, the country has housed 1.72 million foreign workers, out of a total population of 125.8 million. Japanese media also reported that the number of foreign nationals detained at immigration centres for at least six months has continued to grow, and as of the end of June 2019, 679 out of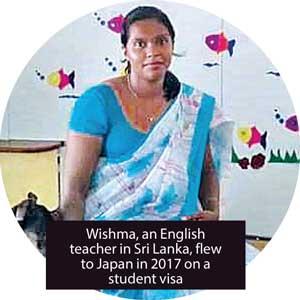 1,253 overall detainees had been kept at such facilities for six months or longer. There are 76 people who have been in detention facilities for over three years.

Wishma's family has been informed by lawyers and Japanese activists how public outcry over Wishma's death had yielded fruitful results. Wishma's sister Wayomi, told the Daily Mirror that she met several foreign nationals who received relief and release from detention centres after Wishma's case levelled pressure on the immigration system.

"During a protest, a lady from Iran, detained for four and half-years for overstaying visa to talked to us. In tears, she thanked our sister for being the reason behind her freedom. She asked us to be happy because our sister has helped many helpless people even after her unfortunate death," Wayomi said.

More new changes
International media recently reported that in a major shift for a country long closed to immigrants, Japan is looking to allow foreigners in certain blue-collar jobs to stay indefinitely starting as early as the 2022 fiscal year.
Under the existing programme in the country, foreign nationals with experience but without special training are permitted to work in Japan for up to five years. They are not allowed to bring their families. If the revision takes effect, such workers would be allowed to renew their visas indefinitely and bring their families with them.

Another important court decision was made in Tokyo, Japan, pertaining to two Sri Lankan men who had challenged the Japanese Immigration Services Agency. The Asahi Shimbun reported that Tokyo High Court on September 22 ruled that the constitutional rights of two Sri Lankan men were violated when they were informed that their refugee status applications were denied and deported the next day before they could seek legal recourse.

The high court overturned a lower court ruling in siding with the men, concluding that the Immigration Services Agency of Japan "robbed an opportunity for judicial judgment and violated the (Sri Lankan) men's rights of access to a court that is guaranteed by the Constitution."

"We received support from never-met Japanese people when Sri Lanka disregarded our case"
However, Wishma's family continues to criticise how the Sri Lankan Embassy in Japan did not offer any support in their legal battle towards justice for Wishma. "Even Sri Lankans living in Japan were afraid that if they support us, they might face issues. Even the Sri Lankan government officials, appointed and paid by our tax money to support Sri Lankans in Japan did not bother to help us. To be honest, if they did their job properly, my sister could have been saved. Never-met Japanese people supported us and are still supporting us," Wayomi said.

She reiterated that if the Sri Lankan Embassy officials in Japan had informed the family with regard to Wishma's health condition beforehand, the family would have left no stone unturned to save her life.