Prof. Neelika Malavige delivered the 16th Annual Sujata Jayawardena Memorial Oration and chose "The Covid-19 Pandemic: The way forward through impactful research" as her topic. This was the first Sujata Jayawardena Oration which was held completely virtually and was customised to fit into the new format with over one thousand participants. The oration was held on August 31.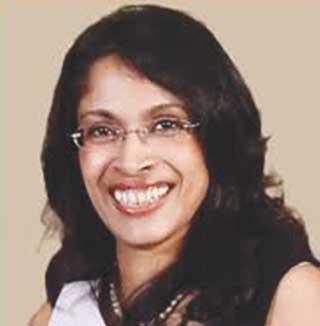 Prof. Neelika Malavige
Prof. Malavige is the Head of the Department of Immunology and Molecular Medicine of the University of Sri Jayawardenapura. Prof. Neelika Malavige stated that the real measure of education was not the number of degrees, certificates or diplomas held or the number of grants, projects, orations, papers or citations one may have, but to be an intellectual who possesses the right values, attitudes, behaviours and makes contributions to mankind.

"Humans have been infected by various pathogens since we first evolved from the great apes. However, during the hunter-gatherer times, since there were very limited interactions between tribes, such infections rarely spread to other tribes. As the human population spread across earth and with international travel, when an infection was seen in a particular area, it rapidly spread around the world causing pandemics.

"There have been many pandemics that have occurred throughout the history of the world, notably the 'black death' seen in the 13th century and the 'Spanish flu' seen between 1918 to 1920.

"Although we did have several pandemics since 1920, nothing evolved to the magnitude as COVID-19, caused by the SARS-CoV-2 virus. This virus rapidly spread throughout the world within a few weeks, causing massive devastation to even the most developed health care systems in the world's richest countries.

"All scientists in the world were racing against time to find answers to these questions. There was a huge amount of collaboration between scientists and governments to characterise the virus and drug trials and vaccine research was carried out at breakneck speed. We too planned to carry out our studies during early February 2020, as we knew it was a matter of time before COVID-19 would reach Sri Lanka.

"Prof. Graham Ogg, my PhD supervisor was here during February 2020 and we sat together and planned these studies. Although I finished my PhD at the end of 2007, he is still my mentor and we have been collaborating on dengue research ever since then. These collaborations with Oxford and other scientists from University of Oxford and Duke- NUS, Singapore, gave us access to many different assays and technology to use for our research.
"We had been carrying out studies on dengue for a long time with Dr. Ananda Wijewickrama and we had developed very cordial relationships with everyone at the National Institute of Infectious diseases (former IDH). It was natural for us to work together on COVID-19.

"Due to the availability of genomic sequencing facilities before the onset of the pandemic, we were able to start genomic sequencing from the onset of the pandemic up until now, identifying variants in Sri Lanka and mutations of the virus. During our initial studies of patients with COVID-19, we found out the kinetics and duration of antibody responses in patients with different severity of COVID-19 and markers of severe disease. We then moved on to vaccination studies, initially studying immune responses to the Covishield / Astrazeneca in health care workers and later studied immune responses to vaccines such as Sinopharm.

"Sri Lanka is in a grave situation with many deaths occurring daily, and rising case numbers and hospitals being overwhelmed. Therefore, it is important to plan how to move forward and avoid getting into a similar situation in future. It needs to be accepted that COVID-19 is here to stay. Therefore, we need long-term strategies to live with COVID-19. Since COVID-19 is already endemic, we have to maintain sustained endemicity.

"The most powerful and resourceful nations have made mistakes and the nations who were leading in controlling COVID-19 are facing a crisis. Therefore, there are no short-term winners or losers. We need to anticipate outbreaks and act swiftly to avoid very expensive, unnecessary lockdowns. Recommendations regarding the best control strategies, type of restrictions, how soon to lift certain restrictions should be made by working together by a multi-disciplinary team of individuals consisting of epidemiologists, infectious disease specialists, economists, financial experts, immunologists and virologists in order to see the whole picture.

"The only way forward is empowering the public and the community through proper public education by giving them accurate facts, health messages and education which are vital for the public to be responsible for their safety. Vaccination is the only strategy forward and vaccine hesitancy must be addressed by public education and addressing their concerns".

The inaugural address was made by Alumni Association President Rajeev Amarasuriya, who at the outset invited the participants to observe a moment of silence in memory of all those persons who had lost their lives to the Covid-19 in all countries.

Amarasuriya, whilst stating that every country across the world had made mistakes in tackling the pandemic, pointed out that what was important during a crisis like this was to take a step back, reflect on the issues, think afresh and reassess the situation.

Vice Chancellor Senior Prof. Chandrika Wijeyaratne spoke of the late Mrs. Sujata Jayawardena and her contributions to the society.

The Vote of Thanks was made by Alumni Association Treasurer Janek Jayasekera and the Alumni Association Secretary Ruwandhi Thanthrige conducted the ceremonies.