---
Whenever the big poll is quite close at hand, the aspirants to the high office, on the advice of astrologers, begin performing various rites and offering poojas to powerful deities to win their favour.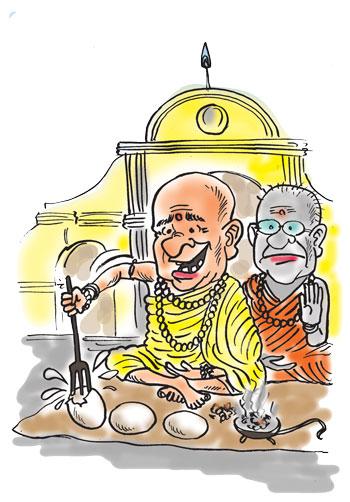 Following this tradition, a political bigwig associated with the government paid a visit to Kataragama quite recently.

The political bigwig had been accompanied by two Kapuralas from India commissioned to perform a special Yaga ritual to appease the deities.

Once in Kataragama, the political bigwig and the two Kapuralas had become the guests of a Nilame. Later, on a Friday the bigwig, after meticulously observing the age-old preparatory rites had attended an all-night pooja at the Maha Devalaya.

He had again in the Saturday morning participated in a Yatika Session held in front of the Devalaya, which had been concluded with a symbolic smashing of three eggs with a Trishool (trident).

Knowledgeable sources say that the two Kapuralas from India at the conclusion of the Yaga ritual had assured the bigwig of success at the coming big poll.