---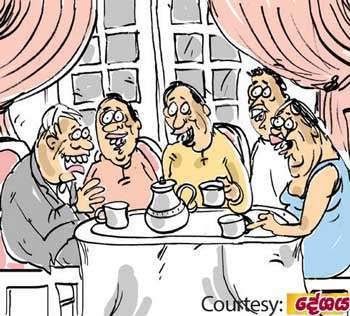 Factionalism leading to arising of intraparty cliques and groups is not a new phenomenon in national politics. We have had occasion to hear about such cliques called Mulberry Group, Ginger group etc. from time to time in the past.

The latest such group making news these days is 'Coffee Group' in the Green Party, they say.

The backbenchers charge that the doings of this exclusive Coffee Group made up of some top ones in the party, a onetime powerful madam and her so-called advisors are responsible for the fall of the Yahapalanaya Government.

This Group would meet practically every evening to talk politics over coffee and it was this group that had been taking vital decisions on behalf of the party, they say.
The irate backbenchers say that it was this group that had always been enjoying the plums of office, but it was they alone who had to suffer the consequences of their ill-conceived decisions.

"Now these backbenchers have decided to take decisive steps to save the party from the clutches of this Coffee Group," an informed source said.