---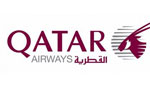 Qatar Airways today launched a global week-long sales promotion, offeringcustomers in Sri Lanka great savings of up to 25% on airfares to destinations across Europe, Africa, Asia Pacific, the Middle East and the Americas.
The discount of up to 25% is being offered for return travel on Qatar Airways in all classes for travel originating from Colombo.
Beginning at 00:00 AM (local time) on 3rd November, the 'Global Promotion Week' offer will run until 10th November 2014. With a generous six-month travel window from 6th November 2014 until 15th June 2015, customers can plan and book their next holiday or business trip well in advance.
Qatar Airways' customers can avail of this offer by visiting any Qatar Airways sales office, appointed travel partners or qatarairways.com/globalpromo.
"Through this global promotion, we would like to extend our gratitude to our customers for their continued support and loyalty in choosing Qatar Airways as their preferred airline. This exciting offer provides our passengers travelling on leisure or business trips, an opportunity to visit more than 140 destinations worldwide on our rapidly expanding global network. We look forward to seeing them take advantage of these incredibly special fares over the next few days," said Qatar Airways Group Chief Executive, His Excellency Mr. Akbar Al Baker.
While flying with Qatar Airways, passengers will also get to experience the world's newest aviation hub, Hamad International Airport in Doha, a world-class facility that sets new benchmarks and redefines the passenger and transit experience.
Qatar Airways has seen rapid growth in just 17 years of operation, to the point where today it is flying a modern fleet of 139 aircraft to 145 key business and leisure destinations across the Middle East, Asia Pacific, Africa, North America and South America.
Qatar Airways celebrated its one year anniversary in October 2014, of joining the oneworld global alliance.The award-winning alliance was named the World's Best Airline Alliance 2014 by Skytrax for the second year running this year. Qatar Airways was the first Gulf carrier to join a global airline alliance, enabling its passengers to benefit from almost 1,000 airports in more than 150 countries, with 14,250 daily departures.
Award-winning carrier Qatar Airways was presented with three honours at the annual Skytrax 2014 World Airline Awards held during the Farnborough Air Show in the UK. The airline was awarded World's Best Business Class for the second year consecutively, World's Best Business Class Airline Lounge for the second year consecutively and, Best Airline in the Middle East for the eighth time.
At the Farnborough Air Show, the airline placed an order for 100 Boeing 777X aircraft, taking Qatar Airways' orders to more than 340 aircraft with a value of US $70 billion. For more information, visit our homepage www.qatarairways.com or our sites on Facebook, Twitter, Google+, Instagram, and YouTube.
For further information contact:
Qatar Airways Group, Corporate Communications Department
Tel: +974 40222072, Fax: +974 40225350