---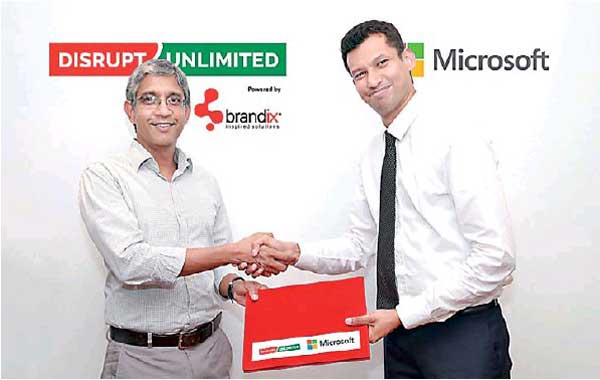 Disrupt Unlimited, the Brandix led start-up seed accelerator, has entered into a partnership with Microsoft to support innovators in its incubator programme with the technical resources and networking offered by the latter's BizSpark initiative.

Microsoft BizSpark is a global programme that helps software startups succeed by giving them access to Microsoft software development tools, connecting them with key industry players including investors, and providing marketing visibility to help entrepreneurs starting a business.
A Memorandum of Understanding signed in Colombo recently by Disrupt Innovation (Private) Ltd and Microsoft Sri Lanka (Private) Ltd paves the way for Microsoft to provide BizSpark to companies in the Disrupt Unlimited programme and to provide the necessary training on Microsoft technologies to such start-ups.

As an international network of entrepreneurial start-ups and partners, BizSpark supports its member community worldwide with up to three years of free software, support and visibility. This includes opportunities to publish and market their apps and free access to Windows Stores.

"BizSpark connects more than 100,000 start-ups and over 1,500 start-up organisations," said Disrupt Unlimited Director Udena Wickremesooriya. "We are therefore delighted to promote BizSpark to the start-ups in our programme, because the value of its benefits and global perspective are immeasurable."
Microsoft Country Manager Imran Vilcassim said, "Microsoft's vision is to create a sustainable impact in the country through the power of technology. BizSpark is an initiative that helps promote a vibrant start-up eco-system in the country that would help in promoting innovation and economic growth. We are delighted to partner with Disrupt Unlimited to take this initiative forward and extend this benefit to companies in Sri Lanka."

Launched earlier this year, Disrupt Unlimited runs a seed accelerator that seeks to inspire, mentor and fund start-ups with breakthrough, technology-driven solutions to disrupt products, practices, processes and business models in the Apparel, Textile and Accessories sectors. Among the company's identified roles are collaboration with industry partners, securing the support of private partners, mentors, and advisors, development of idea/ entrepreneur pipelines, building a network of investors in Sri Lanka and overseas, investing in startups, running seed accelerator programmes and supporting startups through commercialisation.