---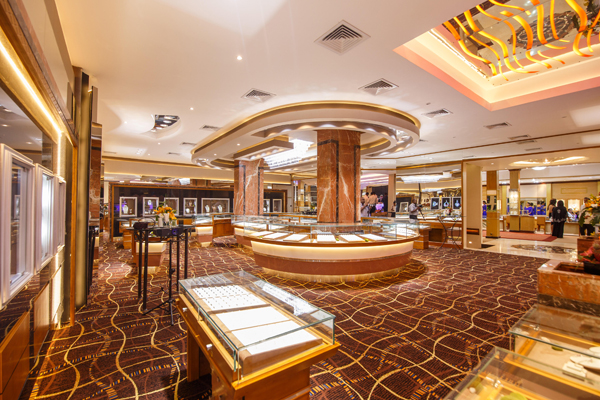 Tiesh by Lakmini', Sri Lanka's largest ever gems and jewellery showroom opened its doors to the public and to the tourist trade at a glittering soirée in Kandy last weekend.
Strategically situated at No 676, Peradeniya Road on the main arterial road to the historic city of Kandy and beyond, 'Tiesh by Lakmini' is spread over 10,000 sq ft and is a virtual treasure trove both for the casual visitor and the discerning connoisseur.
Present at the gala red carpet, champagne launch were a galaxy of special invitees, tour operators, key stakeholders from the tourist trade, together with friends and well-wishers. The evening was one of underscored elegance and dignified charm as a jazz band played continental favourites, while stewards, laden with canapés and cocktails, pattered silently across the plush carpeted floors to pamper the guests among whom were several well-known names from Colombo's fashion, beauty and film industry who had made a special trip to Kandy to be present at the soiree.
An elated Managing Director Lasantha de Fonseka, whose singular brainchild this enterprise is, said, "We're gratified to enter our 20th year with the launch of this plush showroom which goes on record as being Sri Lanka's largest such space".
The showroom features gems and handcrafted pieces of jewellery set in both precious and semi-precious gem stones, highlighting the world famed Sri Lankan Blue Sapphire known for its quality and colour. All pieces are made with precious metals ranging from gold (yellow, white and rose in 22k, 18k, 14k etc) to sterling silver.
The new extension of the showroom is the pièce de résistance and is known as the "Gallery of Sapphires", where customers are spoilt for choice with its exhaustive collection of exquisite Sri Lankan sapphires.
De Fonseka attributes the secret to his success as being his "never ending zest for excellence from the laying of first foundation stone to the final product today". To this he adds, "We would not have been all this and more if not for the unstinted support from my family, my dedicated staff and all those tour organisations through the past two decades. Yes we're both proud and humbled to be the best in the industry and are spurred on to deliver the best experience to every single customer at our showrooms both in Kandy and Colombo".
Tiesh makes the experience even more personalised and takes it to the next level with its in-house designers and craftsman who give customers the opportunity to have a unique custom made piece of jewellery.
To Lasantha De Fonseka this is the pinnacle of the journey he began on 05th September 1997 when he opened Lakmini Pvt Ltd with little experience and equally small resources. The store was on a block on land along the Peradeniya Road and once occupied by the historic 'Panabokke Walauwwa'.
It soon grew to become a landmark and attracted a fast growing clientele among which were predominantly tourists and tour operators. This was a unique Sri Lankan gems and jewellery destination where they could get absolute value for money and take back home the memory of an experience.
As Sri Lanka's largest jewellery showroom, Tiesh by Lakmini boasts of ultra-modern state-of-the-art interior designs on par with international jewellery stores, coupled with exquisite and uniquely designed jewellery of the highest quality. The products are reasonably priced and very often feature one-of-a-kind gemstones.
Tiesh is a highly focused family entrepreneurship with a fine heritage of high quality jewellery and impeccable craftsmanship. Founder / Managing Director Lasantha De Fonseka and his wife Bryony are today joined by the equally hands-on second generation, daughter Thiyasha and son Ayesh who ensure that every piece is unique and thus special. Each stone, and then each piece, passes through the eagle-eye scrutiny of the De Fonseka Family which takes a personal interest from the purchasing of stones through the entire production process up to the finished product.
As one of Sri Lanka's leading contemporary jewelers, Tiesh is not only a jewellery store with a reputation to match. It is also an engaging and hands-on learning experience. A preferred destination by a large numbers of foreign visitors, it houses a gemological museum, a testing laboratory, an auditorium, a jewellery workshop and a replica of a gem mine which is a draw among both local and foreign clients.