---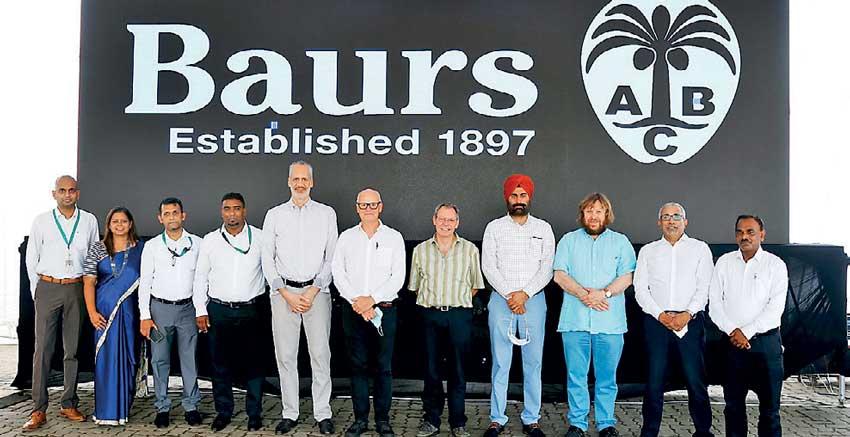 Baurs team including Managing Director/CEO Rolf Blaser and Deputy MD/Director Agriculture Janaka Gunasekera with experts
A team of experts from Switzerland presently on a 10-day visit in the country conducted an experiential and insightful training session on organic agriculture and ecosystem, a need of the hour for Sri Lanka, as it bans chemical fertilisers and pesticides to make a transition from conventional to an organic approach.

The event was held at the Baurs' Fertiliser Factory (CMW) in Kelaniya on August 2, in adherence to strict health and safety guidelines, with the presence of PHI officers onsite.

This knowledge-sharing session saw the participation of Baurs' senior management, support staff, fertiliser and plant protection field staff, CMW lab and factory staff, feed millers, invitees from animal health, poultry and biochar segments, including INSEE Ecocycle and special guests from Sunshine Holdings PLC, including Watawala Plantations PLC CEO Binesh Pananwala.

The event is part of the expert team's diverse visit to study the country's agricultural landscape, an initiative of A. Baur & Co. (Pvt.) Ltd (Baurs). The team of experts is from two of the world's leading institutes on this topic, namely the Research Institute of Organic Agriculture (FiBL) and School of Agricultural, Forest and Food Sciences (HAFL). They will meet with the stakeholders from various key institutions, converse with farmers and other members and visit numerous sites and facilities across the island.

A. Baur & Co. (Pvt.) Ltd Managing Director/CEO Rolf Blaser in his welcome speech said, "We are proud to take a proactive stand on the organic fertiliser challenge. We established dialogue and started this initiative four months ago no sooner the country's announcement to ban chemical fertilisers and pesticides."

"We believe having such a world-class team of experts down here to study and exchange knowledge and resources on the holistic organic agriculture ecosystem is extremely beneficial to the country and sector. Together we will be visiting many sites and facilities in the coming days, including key officials, academics and professionals, to have an in-depth understanding of the system."

According to the International Federation of Organic Agriculture Movements (IFOAM), Sri Lanka currently has a 2.5 percent share of organic agriculture.

Prof. Dr. Christoph Studer, Professor of Natural Resources Management at HAFL, walked the audience through his presentation on the importance of having an agroecological approach. Prof. Studer highlighted the importance of soil fertility management, expressing that the objective is not only providing nutrients to crops but also nurture the soil to make it fit for its diverse tasks such as production and ecosystem services. He also stressed on organic matters, soil life, sustainable use of resources, diverse cropping patterns, nutrients, biofertilisers, among others.

Dr. Jacques G. Fuchs, Senior Scientist in Plant Pathology and Soil Quality at FiBL, shared insights on the basics of recycling organic residues, citing that everyone in Switzerland is individually involved with collecting and separating organic waste at home and that there is a wide range of waste categories. Dr. Fuchs also touched on improving soil fertility, numerous ways of composting practiced in Switzerland from farmers through to industrial plants, including systems for treating bio-waste, various waste that can be composted or treated by anaerobic fermentation, anaerobic degradation process, decomposition and maturation, entire cycle.

Dr. Fuchs shared the entire cycle of the process management from collection of green waste to utilisation of the final product, to include concept of organic waste collection, composting, anaerobic fermentation systems, mixture of raw materials, process management and storage of end products.

The event had an interactive Q&A session with all four members of the expert team, including Dr. Gurbir S. Bhullar, Senior Scientist in Tropical Agroecosystems at HAFL, Paul van den Berge, Senior Consultant at FiBL, followed by a vote thanks by A. Baur & Co. (Pvt.) Ltd Deputy Managing Director/Director Agriculture Janaka Gunasekera.