---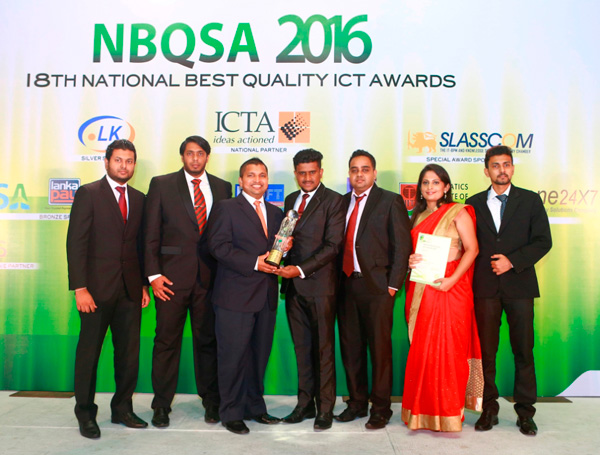 SYNAPSYS, the Information Technology (IT) subsidiary of DFCC Bank won Gold for its MBANX TIPS solution in the 'e--inclusion and e-community' category, at the prestigious National Best Quality Software Awards (NBQSA) held recently. This award qualifies MBANX TIPS to represent Sri Lanka in the Asia Pacific ICT Awards (APICTA) 2016 in Taipei. MBANX TIPS is consistent with SYNAPSYS's vision of bringing financial access to the unbanked and under-banked communities, providing low-cost efficient payment systems and ultra-convenient financial services to consumers.
The NBQSA Awards, organised by the Sri Lankan chapter of the BCS - The Chartered Institute for IT over the past 17 years, is presented in recognition of software products that are of exceptional quality and built to compete in the international market.
Commenting on the accolade, CEO of SYNAPSYS, Dinesh Fernandopulle said, "We are delighted to be awarded the Gold for our MBANX TIPS solution, as this takes us closer to achieving our core vision which is to accelerate financial inclusion in the country. The competition in recent years at the NBSQA Awards has been extremely challenging, as many high quality software products compete on this platform. We are proud to emerge Gold winners from amidst the competition. We have maintained a stringent focus on developing FinTech solutions that empower our customers to experience immediate efficiencies across their enterprises. Together with the tea industry and financial services partners, we have been able to make a significant and pioneering effort to revolutionise the tea industry. SYNAPSYS has exciting plans for its future growth trajectory and these will be rolled out in the near future."
MBANX TIPS serves the tea industry, which is an integral part of the economy and which sustains many livelihoods both directly and indirectly. This solution by the company now enables the tea industry to cater to the unique requirements of its suppliers and farming communities, while providing the scalability for future expansion of operations. Developed by a team of tea industry, supply chain and financial services professionals working in tandem with technology experts, MBANX is a configurable system that adapts to diverse operations and agri-businesses.
Arjun Fernando, Chairman of SYNAPSYS and CEO of DFCC Bank said, "We are proud to have Synapsys as the force behind the technology we offer our customers through our IT-backed financial solutions. Customer needs are evolving fast and the high-powered Synapsys team ensures that the Bank remains agile and responsive to meet those changes. DFCC Bank has emerged as a sustainable business partner for offering FinTech solutions and we will work closely with Synapsys to devise solutions which empower our customers and impact their businesses in a dynamic manner."
RFID-tagged Mobile Produce Collection and Real-Time Payments via any bank's Automated Teller Machine (ATM) in Sri Lanka has enabled customers to fully digitise the entire Procure-to-Pay process. The system is real-time integrated and does not require the produce suppliers to have a bank account which makes it unique compared to market competitors. Some of the other services of MBANX TIPS include Mobile Supplier Payments, Factory Item Sales, Bill Payments, Merchant Payments, Rewards & Loyalty systems and GPS enabled process tracking. Every farmer is issued an NFC Card for authentication.
MBANX TIPS, which has been implemented by some of the largest tea factories in the world, has enabled its customers within a short time to increase quality and quantity of bought leaf, increase efficiency in the supply chain, provide more visibility and accountability at every step, increase compliance and build mutually beneficial relationships with industry stakeholders. The solution is Cloud-hosted and offered as Software-as-a-Service (SaaS) which reduces upfront and operational cost for customers.
SYNAPSYS, a subsidiary of DFCC Bank PLC, is a dynamic and innovative technology firm with an array of products and services supporting Banks, Capital Markets, Insurance and Retail Payments across Asia and the Pacific. The unparalleled service commitment offered by the employees has enabled SYNAPSYS to continue a track-record of NBQSA award winning platforms, MBANX Mobile Teller a few years ago, METRIX Analytics in 2015 and MBANX TIPS today.