---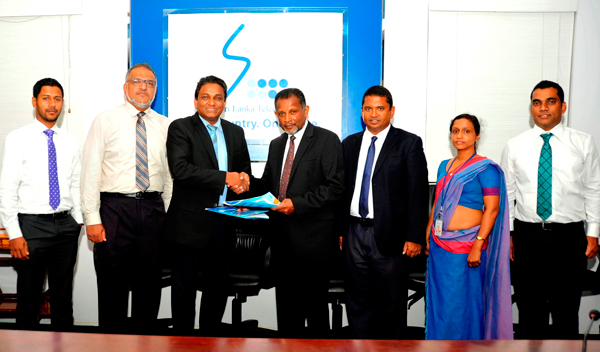 Mr. Kiththi Perera, Chief Enterprise and Wholesales Officer of SLT and Mr. Omar Kayaam, the Group CEO of Aberdeen Holdings exchanging agreements.
From left: Mr. Rifki Ansar - Country Manager - Applications (Sri Lanka and Maldives) of Oracle Corporation , Mr. M.I. Deen Cloud Service Program Manager and GM-Enterprise Solution of SLT, Dr. Tariq Marikar, Group CIO of Aberdeen Holdings Group, Ms Ishari Siriwardane, DGM-Enterprise Solutions of SLT, Mr. Mohamed Uvais, Head of Business Development of Softline Technologies
"SLT team has very efficiently managed the migration of our ICT service to 'Akaza' cloud platform" - Omar Kayaam, Group CEO of Aberdeen Holdings
Sri Lanka Telecom (SLT), the premier ICT solutions provider of Sri Lanka, was proud to announce that its National Cloud Platform, "AKAZA" has powered the Aberdeen Holdings Group of Companies with the Cloud based Oracle ERP solution to streamline its enterprise business processes across the group's business activities. The SLT Akaza Cloud based Oracle ERP solution facilitates core business functions such as: Financials, Sales, Supplier Chain Management, Human Resource Management, Project Portfolio Management, Business Intelligence, Safe Searching and much more, aiming to increase productivity, bring down operational costs, and improve the controls of Aberdeen Holdings.
SLT and Oracle have together offered the Sri Lankan business community an opportunity to host ORACLE applications on a certified Oracle virtualization platform. Aberdeen Holdings Private Limited, a group of companies with diverse business interests in commodity trading, renewable energy, waste management, herbal pharmaceuticals, aviation and the food industry, decided to leverage on SLT's vast ICT resources, which includes being connected to the largest fibre optic backbone infrastructure in the country. By adopting an SLT Akaza cloud based strategy in its IT projects, Aberdeen has benefitted from the scalability and major cost savings of delivering IT services.
AKAZA's technology typically integrates all of its cloud services inclusive of IaaS, STaaS, PaaS, DaaS, SaaS and CaaS with the business management platform of corporate enterprises. SLT Akaza Cloud, in collaboration with Oracle, currently provides a Business Process Services (BPS) offering for large and medium enterprises within the Sri Lankan market and South Asian region. Oracle ERP Cloud base offers the broadest functionality along with end-to-end finance and supply chain orchestration.
The AKAZA cloud hosted locally in SLT's state-of the art Data Centre can be used to store, access, and utilize data by remote means using the public Internet or secured IP/VPN. It is Sri Lanka's first fully automated cloud computing platform with a comprehensive self-service portal including features of pre-paid, post-paid options, service monitoring and alerts, single bill for all the services subscribed, automated service delivery, pay as you use and managed services etc.
Expressing his views on this high-tech implementation, Mr. Omar Kayaam, the Group Chief Executive Officer of Aberdeen Holdings stated, "The SLT team has very efficiently managed the migration of our ICT service requirements to the SLT managed cloud based platform. This incorporates ORACLE, WAN and IPVPN that supports our critical core operations. This gives our organization the comfort of operating on a safe and secure IT platform, managed by the best Communications and IT Technology experts in the country. This arrangement opens out opportunities for our organization to concentrate on growing our businesses with the confidence that SLT, our Communication and information partner will support us to meet the volatility of the MIS needs. We are happy to be the inaugural client of SLT and hope to build a mutually beneficial, long term business relationship in our progressive path towards greater success."
Applications are hosted in a certified Oracle Virtualization platform in one of SLT's state of the art Data Centres. Oracle EBusiness Suite Application licenses will be provided on a monthly rental basis bundled with required virtual infrastructure for applications inclusive of Finance, Procurement, Inventory Management, Order Management, Landed Cost Management, Warehouse Management, Human Resources and Payroll. Oracle EBusiness Suit (Version 12) is a web-based product that can be managed from a single site and is accessible from multiple locations with a secure data link provided by SLT to access the hosted applications.
Mr. Dileepa Wijesundera, Group Chief Executive Officer of SLT commenting on the implementation of this cloud based solution said, "In the present business climate, enterprises like Aberdeen Holdings need to be agile and look into disruptive business models to stay ahead of the competition. AKAZA cloud based projects involve devised technologies with the world's leading technology and application partners like Oracle. This enables us to blend all these ingredients and develop solid architecture and present them to the customers as a single solution."
Dr. Tariq Marikar, Group CIO of Aberdeen Holdings Group of Companies said, "Its really exciting to experience Sri Lanka's readiness in implementing cloud environment. We believe, SLT AKAZA cloud solution will help us to confidently expand into new markets, deliver multi-dimensional reporting from a single source of truth with shared reference data for decision making, eliminate intercompany transaction complexity with a centralized architecture. Through their cloud and managed WAN services, SLT has enabled Aberdeen Holdings with significant Corporate ICT cost reduction whilst maintaining our very high standards, uptime and ICT SLAs."
Mr. Kiththi Perera, Chief Enterprise and Wholesales Officer of SLT said, "AKAZA cloud platform plays a pivotal role in this regard from the view point of managing IT infrastructure and operations. From Infrastructure-As-A-Service, Platform-As-A-Service and Software-As-A-Service offerings, AKAZA enables enterprises to host their IT applications in the AKAZA cloud while the enterprises focus on their core business. Currently, as a group, we provide an entire range of ICT solutions in the areas of fixed and mobile telephony, broadband, data, Internet IPTV, cloud computing, hosted services and networking solutions to our enterprise customers via the latest technologies and also diversified services in par with developed countries."
Oracle E-Business Suite is a tier-one, comprehensive ERP Solution, which will streamline business operations and facilitate varied reporting requirements. The industry-specific solutions supplied by Oracle will add significant value by configuring business processes, speeding up the decision making process, reduce cost, and improve performance. The suite is also enhanced on an on-going basis in alignment with changing market dynamics and customer demands to improve overall effectiveness.
SLT AKAZA cloud is a fully fledged cloud platform that enables diverse businesses ranging from top enterprises, small and medium sized enterprises (SMEs), micro level business organizations and government institutions as well as mobile customers to leverage on SLT's vast ICT resources, which includes being connected to the largest fibre optic backbone infrastructure in the country. Customers adopting a cloud strategy in their IT projects benefit from the scalability and cost efficiencies of delivering IT services to their business requirements. For more information, log on to www.AKAZA.lk