---
In the aftermath of the collapse of the former Soviet Union in 1979, and the emergence of the United States as the most powerful military power in known human history, people worldwide dreamt that democracy would flourish and the world would be a war-free and peaceful place.
However, their hopes were dashed as forces such as powerful and ruthless lobbies which control weapons industry, oil cartels, Banking and finance industry and other corporate conglomerates, which rule US and Europe and thus the world, had their own agenda.
Their agenda was to continue wars by substituting Red Communism with Islam and Muslims as their new "public enemy number one" to destroy and plunder Muslim countries. As part of this plan destabilizing the Middle East is one of the main Israeli agendas implemented in cooperation with US, UK, Europe and Russia.
The result was the well-planned campaign demonising Islam as an outdated religion promoting violence and Muslims as backward and violent people. This campaign was carefully and effectively executed by pro-Jewish western media which remains an integral part of the US-led Israeli and European war machine.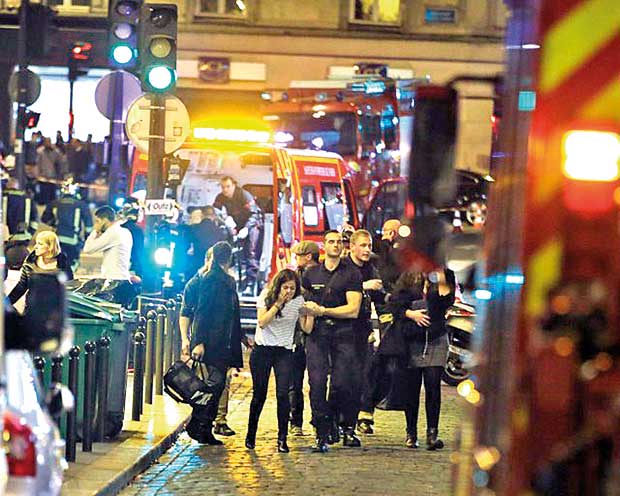 It began in 1990 when they executed Iraqi dictator Saddam Hussein who was tricked by the US to invade Kuwait and precipitate a crisis. Since then, one after the other, many Muslim countries were invaded and destroyed. Millions of innocent people were killed while others were forced into refugee camps to suffer in appalling conditions.
These ranges from Afghanistan, Chechnya, Bosnia, Kosovo, Somalia, Algeria, and Israeli-occupied Palestinian territories, Iraq, Iran, Libya and now Syria emptied of its people, Central Asian Republics, current French interventions in African Muslim countries such as Mali, Chad, Niger and Central African Republic, Uighur in China, India, Southern Thailand, Philippines and the list frighteningly continues.
In Europe it began with the Bosnian crisis. Well armed Serbs who opposed Bosnia emerging as a separate country committed genocides on Muslims for three long years under the watchful eyes of US, Europe and United Nations.


"Charities, mosques, religious schools and anything and everything related to Islam and Muslims have become objects of suspicion and hatred."


In the Bosnian city of Srebrenica alone around 10,000 Muslims were massacred by Serbs. Though aware of the plan, the US, Europe and the UN failed to protect Muslims who were legally banned from arming themselves.
In the midst came the 9/11 tragedy at the World Trade Centre in New York for which the Muslims were falsely blamed. The post 9/11 'War on Terror' has served to demonise the planet's 1.5 billion Muslims, and facilitate the Bush administration's rampage throughout the Middle East and beyond. The war against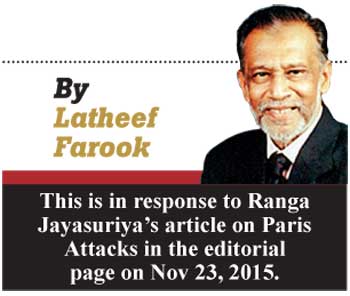 terrorism has been so comprehensive that it struck at the very root of political, military, economic, financial, social, religious and even cultural life of Muslims all over the world.
All Muslim countries, individuals, Islamic banking and financial institutions, organisations – especially religious ones – and charities, mosques, religious schools and anything and everything related to Islam and Muslims have become objects of suspicion and hatred.
Today, Muslim men with beards and women with head-scarves are afraid to move freely in the West. Sections of the western media have thrown fuel on the flames by publishing despicable cartoon characterisations of Prophet Mohammed in the name of free speech.
All Muslim men and women have come to be regarded as fundamentalists and demonised as potential terrorists and their lives brutally extinguished, often without any justification.


"It was the European colonial powers such as Britain and France backed by the US and Russia planted Israel in Palestine, divided the Middle East into small countries and installed secular Arab tyrants as rulers to serve their interests"


In 2003, George Bush and Tony Blair falsely accused Iraq; battered by the 1990 invasion of Kuwait of possessing weapons of mass destruction and bombed that country into a waste land. Oil wells were grabbed and the nation's wealth including museums were plundered. Depleted uranium from weapons used deformed millions of Iraqi children while UN economic sanctions virtually destroyed the Iraqi population.
Then came the genocide of innocent men, women, children and the aged who were observing the holy month of Ramadan Fast in Fallujah, a city of 300,000 people. Bush dropped internationally banned and an improved version of napalm bombs which indiscriminately burnt and melted people to death. In its wake came the more shocking pictures of Bush's and Blair's troops' gang-raping Iraqi women. Among the victims were ordinary housewives, mothers and daughters – all brought up in a decently conservative society and whose cultural customs have always valued feminine purity as a prerequisite for marriage and a happily wedded life. Did the perpetrators of these appalling crimes ever stop to wonder that their victims were the same kind of women as their mothers and sisters at home?




Meanwhile oil rich Libya was the richest country in Africa and the people there enjoyed a very high standard of living. During the so-called Arab uprising, the Libyans too asked for little freedom resulting in the subsequent armed conflict. Exploiting the situation, the US and Europe bombed the country under the slogan "humanitarian intervention" and turned it into yet another killing field. The misery caused is such that unable to live in their own country Libyans are fleeing risking their lives in often in unsafe boats in search of safety. These are only few examples to show.
According to a recent UN report, there are around 59.5 million refugees and IDPs worldwide and most of them are Muslims.
It was the European colonial powers such as Britain and France backed by the US and Russia that planted Israel in Palestine, divided the Middle East into small countries and installed secular Arab tyrants as rulers to serve their interests.
This is today's Middle East!
Muslims in Chechnya who always declared that the Russian annexation of their territory was illegal also sought autonomy. Russia's barbarous response turned Chechnya into a slaughter house where the atrocities committed were such that no one smiled during the past 20 years!
Russia also maintains tight grip on vast Muslim areas of the beautiful region of Central Asia comprising Azerbaijan, Tajikistan, Kyrgyzstan, Kazakhstan, Turkmenistan and Uzbekistan, renowned for the famous silk route cities of Bukhara and Samarkand where Islamic civilization once flourished.
China justifies its own oppression of its Muslim population in its Muslim majority Xingjian province where it enforces an 'iron fist' policy to crack down on those fighting for autonomy and religious freedom.




In India, the Bharatiya Janatha Party (BJP) government which is a deceptive front for the neo fascist Rastriya Swayamsevak Sangh (RSS), continues its declared program to eliminate Islam and Muslims from India. Thus wars destroying Muslim countries and killing Muslims have become thriving business and the weapons industry continues to flourish.
The real beneficiaries were the Anglo-American oil giants, Wall Street, the Anglo-American military-industrial complexes, corporate conglomerates and financial oligarchy, political leaders and Israel.
The 'Islamophobia' spreads like wildfire. The situation is so frightening that Wolfram Richter, the Economics Professor of the German University of Dortmund, has expressed his fears that "they would do to Muslims what they did to Jews and the next holocaust would be against Muslims".
This has been happening during the past quarter century. Already most European countries have begun imposing restrictions causing hardships to Muslims. Now who are the terrorists? The western war mongers and their Arab collaborators of the innocent Muslims worldwide described as terrorists and killed.
---
Add comment

Comments will be edited (grammar, spelling and slang) and authorized at the discretion of Daily Mirror online. The website also has the right not to publish selected comments.

---