---

Giving a memorable experience for those who appreciate the traditional handicraft industry, and also to those who would like to explore the rich Sri Lankan Culture and Heritage, Shilpa - National Handicraft Exhibition and Trade Fair, was opened at the Sri Lanka Exhibition and Convention Centre recently.

Among the distinguished guests were the Minister of Industry and Commerce, Rishad Badurdeen, Deputy Minister Champika Premadasa, Secretary, Ministry of Industry and Commerce, T. M. K . P. Tennakoon, Advisor to the Ministry, Sunil Jayantha Navarathne, Ms. Ishani Bogollagama, New Chairperson of the National Crafts Council, Ministry officials, media personnel and representatives of various institutions and organizations.

The opening ceremony proceeded with the minister, deputy minister and other distinguished officials inspected the creative work done by the local craftsmen. They seemed to be much impressed with the traditional wooden carvings, pottery and other handicrafts. At the very entrance, everyone could see the giant and magnificent wooden elephant which was staring majestically at those who were present, and it was interesting to see minister Rishad Bhadurdeen purchasing the elephant at that very moment and handing over a cheque of Rs. 15 lakhs to the two elderly artisans who mastered the work of art, later on at the press briefing held at the premises, after the inspection of the craft work.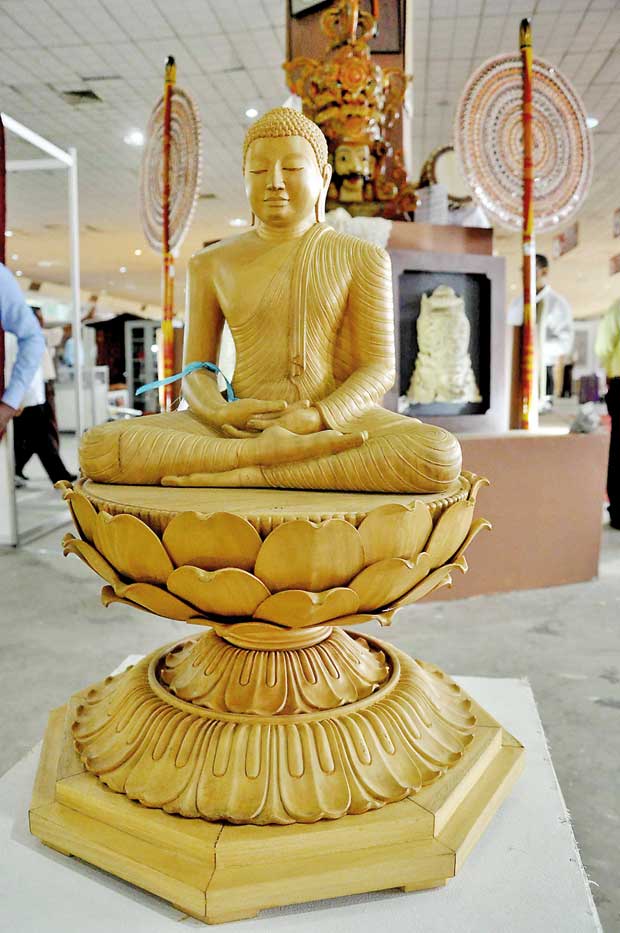 Minister Badhurdeen in his speech as the chief guest said: "I will certainly take measures to develop the handicraft industry in Sri Lanka and also promote it through the international market, while enhancing the livelihood of craftsmen across all areas of Sri Lanka, and give them recognition for their hard work".
He said that he was happy to participate in such an interesting occasion, and to be admiring the talents of our artisans, and that the government, including the president and the cabinet ministers were giving their fullest support in this matter. According to Minister Bhadurdeen, the number of tourists have increased and hoped that it would increase by 25 lakhs. He further said they hope to develop the National Crafts Council to a higher status by taking measures to develop it through the joint government and to do an impressive service through developing these institutions.

Deputy Minister Champika Premadasa said he was impressed with the the amazing talents which the artisans showcased and and that they hoped to give the due recognition to these craftsmen and women both locally and internationally through the contribution of the government and making the artisans financially safe and give good value to their craftwork.

Secretary of the Ministry of Industry and Commerce T. M . K. P. Tennakoon said that the NCC had planned to distribute gift souvenirs for tourists to promote Sri Lankan culture and talents across the globe. He said they have made an agreement with the R. D. B. Bank to provide loans to artisans. The government will do the needful to enhance the craft skills and product methods of the artisans.
He said developing villages as Co-operative villages and Co-operative Banks will be planned. He said that the artisans having problems with their career will be welcome to discuss them with the ministry officials. He said there are steps to be taken to sell handicraft items at a reasonable price through institutions such as Laksala. The occasion also included selected artisans from all parts of the country receiving special benefits, and also creating a digital index, a directory including artisan's information, including their names, professions, institutions, in collaboration with the Sri Lanka Telecom and Mobitel so that the artisans will be able to communicate and enhance their career, not only locally, but internationally as well. The MoU was signed between the secretary, ministry of Industry and Commerce T. M. K. P. Tennakoon and CEO, Sri Lanka Telecom Rainbow pages and PEO TV Malraj Balapitiya. These were new additions which happened along with the event.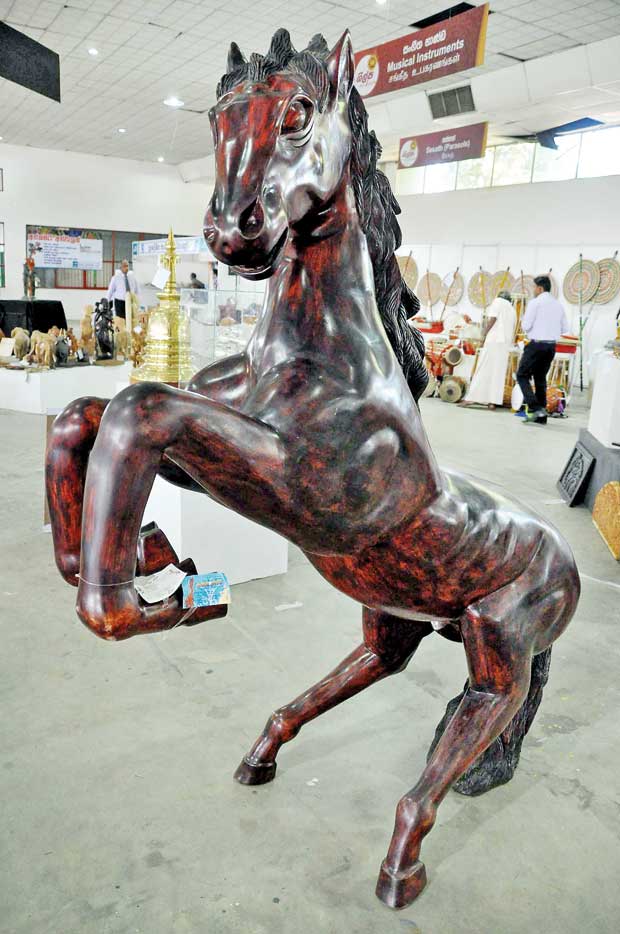 The Handicraft items of a country reflect the culture, tradition, heritage and the customs of people. From ancient times, Sri Lanka has been a well-known country for its rich culture and traditions, along with its iconic handicraft products.

The history of these handicrafts takes us back to an ancient past which is over a thousand years. The National Crafts Council does its utmost to bring back the magnificent history of Sri Lankan handicrafts through holding exhibitions like these. The Handicrafts industry represents the second largest employment segment of the Sri Lankan population. Through this exhibition the National Crafts Council gives exposure to crafts persons and uplifts the life style and economic condition of a population who are based in rural areas. Sri Lankan handicrafts have always been recognized world over for their traditional creations, innovative designs and the latest trends.

The National Crafts Council promotes handicrafts such as Pottery , crafts made of leaves and grass, Dumbara arts, Cane products, Steel products , musical products, Cloth materials, Batik, lacquer products and many more local handicraft items.

The guests and the public were able to have an amazing experience exploring through the various stalls, which represented clay based crafts, leaves and grass, traditional caneware, sesath, masks and puppets, brassware, steelware and bronze products were also to be seen, clothes, home linen made of raw fabric, crest mineral creations, jewellery boxes bags, brush stroke paintings, wall hangers which almost looked like paintings but were made of different local ingredients, including paper, banana leaves, etc.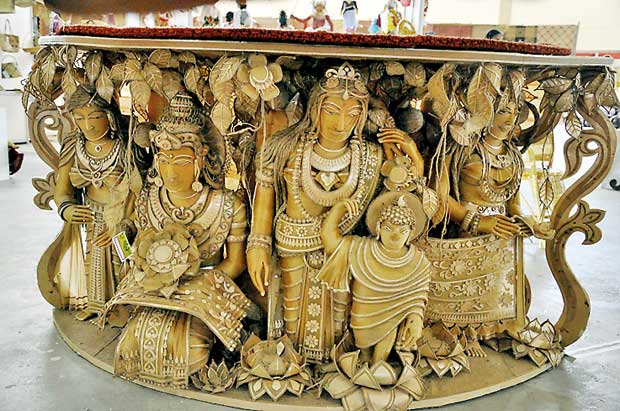 One of the most creative attractions was the wooden elephant at the entrance and 'Jasmine necklace' – 'pichcha pokuru' by E. T Dharmakeerthi was a beautiful piece of jewellery, which showed the masterly skills of the artisan. ''The atavisi buduruwa'' made by L. P. N Sirithunga of Pokunuwita, depicted how are artisans can turn even a senseless stone to an emotional work of art . All these crafts were represented by artisans from all areas of Sri Lanka. Food stalls provided herbal drinks and food products made out of local ingredients and quenched the thirst and gave something to munch while exploring. The Daily Mirror decided to have a conversation with some of the artisans who show cased some colourful items.

Working as an advisor at the National Crafts Council D. G Goonerathne, is from Kandy. He uses Teak and Ebony to do his craft work. He creates wall hangers, house hold items and souvenirs. He said there's a good market for these products.

T. A Shamali seems to be really interested in what she's doing. She does 'Beeralu weaving'. She says the National Crafts Council gives a 6 months training for each handicraft section. Those who are interested can register themselves under the NCC.

Speaking of handicrafts, we cannot forget Batik. U. P Wimalasena, who owns the Batik stall, says it's a long procedure. He says this is a handicraft industry. This is mostly done from cotton. This is based on one's talent, nature and creativity. In Indonesia, there is a huge market for these products.
Buddhika Sriyangani Kumari from Battaramulla, expressed that she joined this field through the Janakala Kendraya in 1998. And in 2001 she joined the NCC through the National Handicraft Board. She creates products out of clay, and is happy with what she does.

Director in charge of the Artist training Board, B.N Udaya Kumara said those who were interested in joining this field were most welcome to send their applications till January 31, where they would be doing a one year course. They can get more information through the head office. This is an excellent opportunity to upcoming handicrafts for men and women.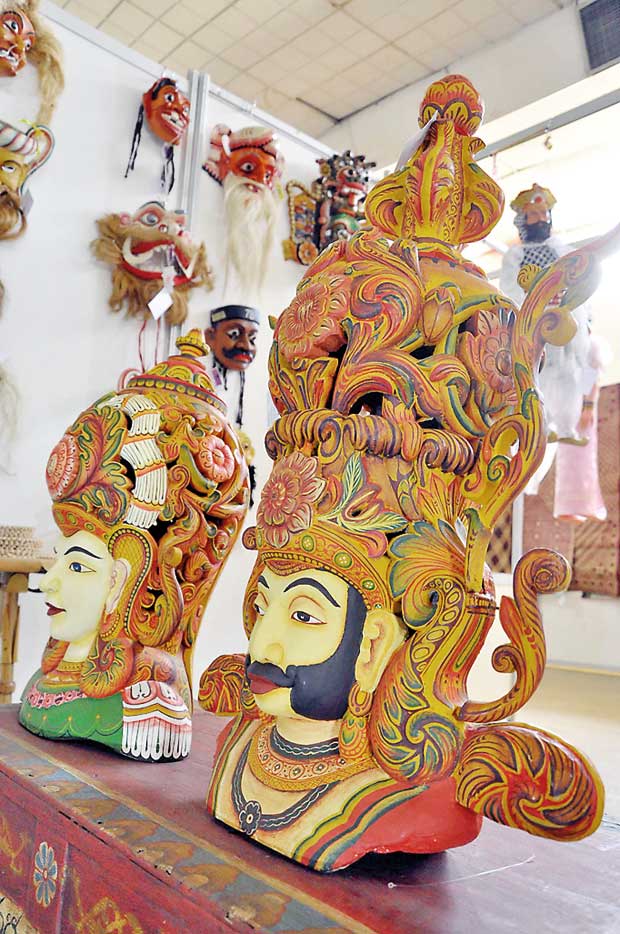 ---
Add comment

Comments will be edited (grammar, spelling and slang) and authorized at the discretion of Daily Mirror online. The website also has the right not to publish selected comments.

---