---


Children are the future of this world. However, many of them are pushed in to darkness and are isolated from society before reaching their goals. With increasing rates of violence against children it is highly unlikely that a majority of today's children would actually take the lead in future. Understanding the importance of this issue, a public discussion on current challenges in child protection in Sri Lanka was organised by the Save the Children organisation, addressing issues like protecting children, children's rights, violence against women and children and other related issues. The event was held under the auspices of former Minister of Child Affairs, Rosy Senanayake and other dignitaries.
A panel of eminent professionals in child protection including Professor Harendra De Silva, Professor Siri Hettige, Professor Hemamali Perera and Attorney Kalyananda Tiranagama spoke on a wide range of issues together with key government policymakers in child protection representing various organisations such as the Police, the Attorney-General's Department, the National Child Protection Authority and Ministry of Women's and Child Affairs and many more.


Lack of data: Professor Siri Hettige

As a key issue, the increasing rate of crimes against children was addressed by both panels. In his comments, Chairman of the National Police Commission, Professor Siri Hettige said that any problem could become a social problem when it reached extreme levels.

"One incident will elicit a lot of issues. As a sociologist I cannot speak without data in hand. There needs to be a process of collecting data in order to identify the number of crimes that are being reported daily. Sometimes there is an issue about whether we are providing child-centred learning or examination-centred learning.

"Data could be collected empirically and this could be done through the Ministry of Women's and Child's Affairs. If we take the district level the reporting and collecting of data was poor. But we can assume that there is more to it than what is being reported. Therefore it is high time to collect data and keep track of what is happening."

Abuse makes children violent: Professor Hemamali Perera

In response to this question, Professor Hemamali Perera said that when a child was abused, its connection with society eventually got disconnected.
"There are negative impacts on a child's psychological and physical well-being. In addition to that, interpersonal connections and education are in most cases deprived. Also there are short-term and long-term risks when a child is abused. Parents too should be blamed at times because sometimes they tend to hide these kinds of issues to refrain from being embarrassed in front of society.

"Children trust adults but this trust is broken down and eventually the child would suffer from psychological trauma. Thereafter children start to act violently, when they go out in to society. It is not only physical abuse; there is emotional abuse as well."

Need for knowledge: Professor Harendra De Silva

Adding his comments in response to the question raised, Professor Harendra De Silva said that there was enough capacity to accommodate a mandate that would address child protection techniques.

"There are no issues in terms of physical resources. We need to improve the knowledge of people from the level of authorities. From the person at the top of the hierarchy to the labourer, every institution should perceive these to be sensitive issues. As such, the sensitiveness should be shown. We should look at how many psychologists, psychiatrists and counsellors can actually address these issues. "There needs to be a way to discipline people rather than killing them or sending them to the gallows. Children should live without any physical or mental trauma. It is quite effective if a system of monitoring is implemented while getting feedback at the same time."

Child Prisoners: Kalyananda Tiranagama

Senior Lawyer, Kalyananda Tiranagama said the loopholes in the Judicial System helped sweep this type of cases under the carpet.
"If you take the Bogambara and Welikada prisons children of ages 13 – 16 too are prisoners. This is quite an unfair practice but it has happened that way. Some people who are on death row are also quite innocent people. Some of these children have been in prison for as long as 12 years. If there's a law, it should be equal to all but we don't see that."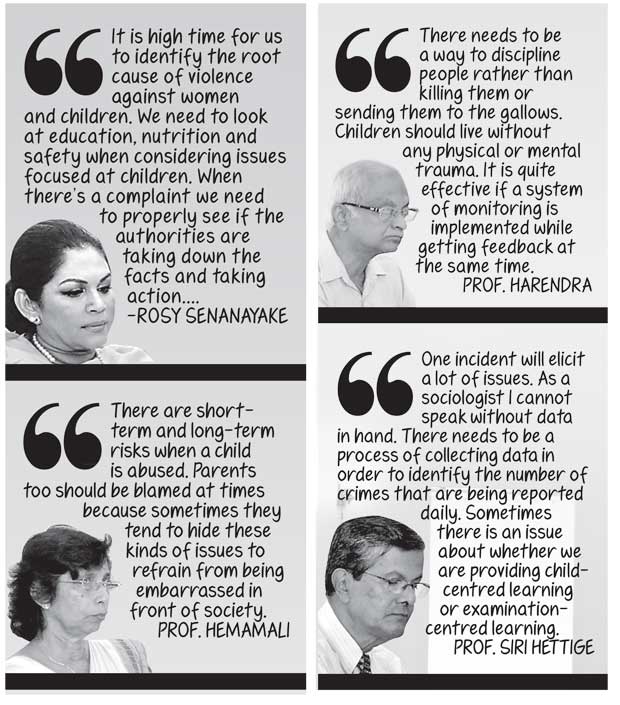 Vulnerable groups: Yasantha Kodagoda

Stating their stance on the issue the panel of policymakers expressed their concerns by stating that it was through families that they need to seek for methods to stop violence against children.

Replying to the statement made by Senior Lawyer Tiranagama, Additional Solicitor General Yasantha Kodagoda said that the enactment of capital punishment was not very successful.

"Up to 4000 cases of child abuse are being reported in courts. There need to be courts set up in every district that will take up only child abuse cases. There is one such high court in Anuradhapura but today it is found that other cases too are being taken up there. 25 percent of the cases that are heard in courts are related to child abuse. We need to cut down on this number and also develop alternative criminal justice pathways. Vulnerable groups should be identified and we need to reduce the number of cases being reported to courts."


"There are no issues in terms of physical resources. We need to improve the knowledge of people from the level of authorities....."
Child abuse on the rise: Rosy Senanayake

In her observation, former Minister of Child Affairs Rosy Senanayake said that if there was no data she would give enough and more data about incidents, which had taken place during 2009-2012.

"As of today, cases of child abuse have increased to another 20 percent and this is found out only from the number of reported cases. But we very well know that there are more of such cases taking place which go unreported.

"It is high time for us to identify the root cause of violence against women and children. We need to look at education, nutrition and safety when considering issues focused at children. When there's a complaint we need to properly see if the relevant authorities are taking down the facts and taking action against them.





"It is not only a matter of taking down these issues as well. Once recorded, these institutions should take strict measures to prevent such incidents from taking place."


Pics by Kithsiri De Mel