---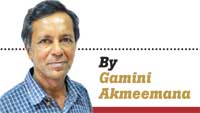 Mettasena has had an intimate relationship with India. As a rising star in the field of fashion photography, he went there in 1994 in search of model Kavya Pirbhoy, and ended up getting his photographs published on the front page of Femina. In 1997, he went to Rajasthan to photograph its culture. He met fashion magazine editors and top models. But his last visit to India in 2013 took place under very different circumstances; he had Rs. 400 left in his bank account and Rs. 2500 borrowed money in his pocket. The story of this improvised journey is narrated in two recently published books.

Mettasena's newspaper life started with the writing of comic story (Chitra Katha) scripts for Lake House three decades ago. He began working for the tabloid Mirror magazine of the Sunday Times as a photographer, and went on to become a star fashion photographer almost overnight. This fame made him a sought after wedding photographer, one of the elite few who could charge royal sums for a wedding album.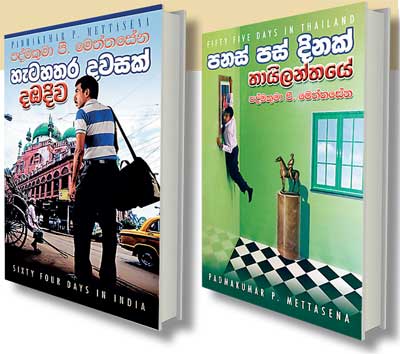 Like many Sri Lankans, Mettasena is a fervent believer in astrology and predictions of a dark period in his life caused by Saturn was behind his decision to leave Sri Lanka. The belief that going abroad could minimize the impact of malefic stars on one's life is prevalent, though few have the means to do so.
His two books 'Hetahathara Davasak Dambadiva' (Sixty Four Days in India) and 'Panas Pas Dinak Thailanthaye' (Fifty Five Days in Thailand) are the result of that meandering. During four months starting from December 2013, Mettasena was on the move, first in India and then in Thailand. These books combine autobiography with travel writing.

His recital is not entirely a tale of woe. There are anecdotes about the very young Mahela Jayawardane and Kumar Sangakkara. Friends in Canada, India and Sri lanka regularly sent him money which enabled him to spend two months in India and two more in Thailand. It's a saga of living by wit and inspiration. He had to sell his old camera lenses in India and sophisticated mobile phone in Thailand to survive. In one instance, having only seven rupees and unable to afford dinner, he tries unsuccessfully to sell his dongle and gives it to a starving beggar. Watching the beggar trying to in vain to sell the dongle, he buys a coffee with his seven rupees and shares it with the beggar.

Like with many such travellers, providence helps him at the worst moments. In one instance, unable to afford the bus fare to his destination, he explains his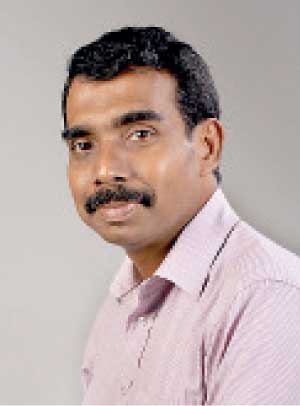 plight to the bus driver, who offers him Rs. 500. He meets the bad as well as the good, including racketeers. At one point, his life-saving phone is disconnected by the company as he runs up an unpaid bill of Rs. 138,000, and has to sell it for Rs. 400. There is humour, too. Plagued by bed bugs at a dormitory, he is 'rescued' by the arrival of young Sikh women as the bugs abandon him in droves to seek fairer pastures (though whether this is biologically possible needs to be verified by an actual simulation under empirically verifiable conditions).


In an impossibly overcrowded Indian train, he is given a seat after fellow passengers see his cover pages of Aishcharya Rai, Sanath Jayasuriya and Sharukh Khan. Having spent 18 days in Calcutta, Mettasena boards a flight to Bangkok on Feb. 24, 2014, after spending his final fifty rupees on a Nescafe. Arriving penniless in Bangkok, he experiences Thai hospitality right from the start. Thais help him with food, money and free taxi rides. But such hospitality will not pay for a two months' stay, and he ends up selling another phone.

These two months spent in Thailand are full of humour and anecdotes. While meeting at a Thai meditation centre, he meets an arrogant, ignorant preacher-monk, a Belgian Nazi and young Israelis. It is often said that writing is therapy. In this case, both travelling and writing about it seems to have been therapeutic.