---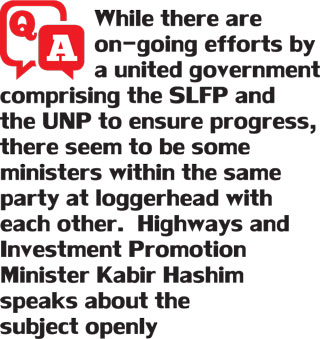 Q How is the government progressing these days?
After several years a new government is in office and it has introduced a different political culture, where two parties have joined to work together. It is a challenge and it seems to be good for the country.






Q

Are there signs of conflicts surfacing?
There may be differences and time is needed to resolve them. When attempts are taken to change systems and procedures there's bound to be resentment. However the common people have realised that the situation is much better now.




Q

Whatever you may say, there is a belief that the country is not moving forward?
The country was not stable from January 08th to 17th August as it was under a minority government when several issues cropped up. Foreign investors were undecided. They had doubts whether the government would change, and what the policies of the government would be. The holding of elections dragged on affecting the economy of the country. After the establishment of this government in August, things began to change, entrepreneurs and the general public understood what the government was aiming at.




Q

Yes, and the Budget too was presented?
Yes, with it the development of the country had now begun. How can one say that nothing had happened? Mahinda Rajapaksa was in power for ten years. A certain minister who supported him and now a deputy minister said recently that roads leading to his constituency are in a deplorable condition. It goes to prove that though Mahinda Rajapaksa was the Minister of Highways, roads in villages were not developed.




Q

The Opposition says that what you are aiming to implement "Let us sell Sri Lanka".
Our policies were torn to pieces. The Constitution was termed J.R. Jayawardene's idiotic constitution and Ranil's 'Reawakening Sri Lanka' was attacked on all platforms. But did the Rajapaksa government attempt to change any of these? What were the Rajapaksa policies? He made this country a dumping ground for capitalism; we said this from 2005. He opened capital accounts and allowed our banks to raise billions of dollars worth bonds and granted international racketeers freedom to operate in the island. How could Mahinda Rajapaksa supporters honestly say we are selling Sri Lanka? For the first time 50 acres of valuable land in a high security zone was given outright to China. What about the 5000 acres abutting the Somawathie Chaithya given to European companies for the cultivation of bananas depriving our own people of their own lands? What about the sale of the Sri Lanka Paper Corporation to an Australian company? Do those have any right to say now, that we are going to sell Sri Lanka?




Q After the presentation of a financial budget it is not amended as a tradition. But with the 2016 Budget, amendments are continuing. Is the government incapable of preparing a Budget?
The criticism was welcome. Budgets may not be amended immediately, but under good governance we listen to the people and take decisions for the good of the country. Our countrymen have got used to certain ways of living; they also have aspirations. What happened was that several sectors of society made certain thought provoking requests that resulted in the prime minister and the minister of finance deciding to make certain amendments.




Q

Those who join public service as from 2016 would not receive a pension. Is it a move to dissolve the public service?
The Rajapaksa government did not stick to their policy of increasing the salaries of government servants. But we granted the Rs 10,000 promised by us. And through that we were able to bring down the financial pressure people were experiencing. After this first step, other related matters are under discussion; and acceptable decisions would be taken soon.




Q

Now the country is becoming a fighting arena. Trade unions say that the denial of vehicle permits is forcing the educated community to migrate to other countries.
During the Rajapaksa era, senior government servants were given car permits and other perks; but what did their juniors get? No permits, no salary increases and no opportunities to lead a better life. A good example was that of a Samurdhi animator in a village getting caught twice for distilling kasippu. At the police interrogation he had said that the salary he received was not enough to live. This happened in 2014. Despite car permits and other attractions didn't people migrate then? Wasn't there a brain drain then? The highest brain drain was during the period 2005 to 2014 because of the humiliation they suffered. They were not given opportunities in administration; government departments were highly politicised and honest, duty conscious police officers were assaulted. These were some of the reasons many left the country. Now Prime Minister Wickremesinghe has got involved with government servants to address their demands. This proves that this government listens to the people.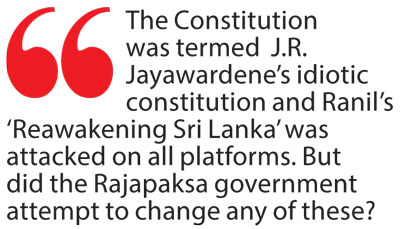 QThose who voted for the UNP with the idea of purchasing a car have their dreams shattered now.
People did not vote for the UNP to purchase cars, but to breathe freely. People who spoke or wrote were shot at. People rallied to win their freedom of association, of speech and also to have three square meals a day. There were families who ate only bitter gourd for all three meals and there were students who committed suicide because they had no shoes. Let us resolve these issues first.




Q

Under a market economy how can the sale of state institutions take place? Isn't this government also heading towards it?
Who said so? As the minister of state enterprises development, I reiterate that no institution under my purview would be sold. We have made investments; the Bank of Ceylon investing in the hotel sector is one of them. Such investments can be sold and new ones made. Other than that no privatisation is going to take place. The talk that the Sri Lanka Insurance Corporation is about to be sold is false. I can say that without any hesitation The Insurance Corporation would continue to remain a state venture.




Q

There are several ministers falling under the ambit of the Finance Ministry; wouldn't it create problems?
As a group working with a team spirit we are aware of the changes. Whether the banking sector is under the Finance Ministry or not there is a close liaison between the two as the Planning Ministry is under the prime minister and the Central Bank. Therefore what you perceive as an issue does not exist and our work continues harmoniously.




Q

Do you think that the minister of finance could prepare the Budget without having the Central Bank under him?
It is true that Central Bank's involvement in the preparation of the Budget is essential: the support of all the other ministries too is necessary. The Budget is prepared with the concurrence of all these ministries, and Minister Ravi Karunanayake as a person who has established a good rapport with all these ministries, is doing a great job.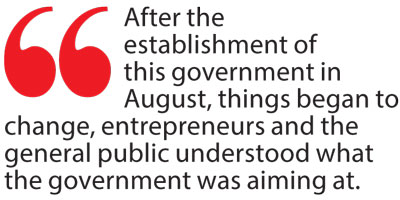 Q It was revealed in Parliament that 70% of the powers of the finance minister had been vested with Minister Kabir Hashim.
I do not know whether it is 70% or more! However I have been vested with a ministry.




Q

You have more than 90 institutions under you?
Yes. Some are worried over it and some are jealous. I can say that some of those gazetted under my name are not under me.




Q

The Pelawatte and Sevanagala sugar companies said to be under you are actually being administered by Minister Rishad Badurdeen.
Yes, what you say is correct. They are only in name, and not under me. A wrong picture is being depicted.




Q

Who had made that mistake?
This lapse had happened during the preparation of the gazette. It may be a technical error. I do not point a finger at anyone, but a wrong impression had been created. Some of the institutions are only in name. There are many institutions taken over by the government as under-performing enterprises and for underutilising assets. Most of these have closed down and exist only in name.




Q

A decision was taken that in making appointments to corporations and departments the approval of the special committee comprising President Sirisena and Prime Minister Wikremesinghe should be obtained. There is an allegation that you have bypassed them and had acted on your own?
There was such a decision and there are accusations. When I wanted to reappoint some to the posts held by them it had been a tradition to appoint them under the signature of the new secretary. So they were requested to have their appointments regularised by the new secretary. Because some refused to do so together with a list of some new appointments to be made we forwarded it to the President's Office and the Prime Ministers' Office. This strategy was followed but some refused to budge on the grounds that the authority for their appointments did not rest with the new secretary.




Q

It seems to be a crucial issue
If I am appointed a minister the institutions coming under my purview should be constituted with officers who would function under me. I consider this my right. If not I am unable to maintain these institutions. Anyway I have now forwarded this matter for the attention of the president and prime minister. I will abide by whatever decision that follows.



Q

The government is only four months old, and a minister had to resign.
When some accusations are levelled at you and before the person is subjected to an inquiry, a defendant resigning from his post and allowing a probe to continue is rare. It also sets a good example. Ministers in a foreign country resigned when a train derailment caused several deaths. But in Sri Lanka there are ministers who never leave [whatever the circumstances]. Minister Marapona's resignation was an eye opener and a good omen for the party.




Q

Are non-UNP members who enter into conflicts with UNP ministers? The issue with Marapona was instigated by ministers Rajitha, Champika and Arjuna. Doesn't it appear that these ministers are running this government?
I think there are non UNP ministers who do not speak to the papers or media. The UNP has a way of doing things. If there is an internal party issue, it would not be discussed in public. We also had situations where our party men also spoke in public. Our leader took a wise decision on that occasion. The three ministers you mentioned are making criticisms at times on crucial issues. They are like watch dogs. I look at it as something good and encouraging.



---
Add comment

Comments will be edited (grammar, spelling and slang) and authorized at the discretion of Daily Mirror online. The website also has the right not to publish selected comments.

---