---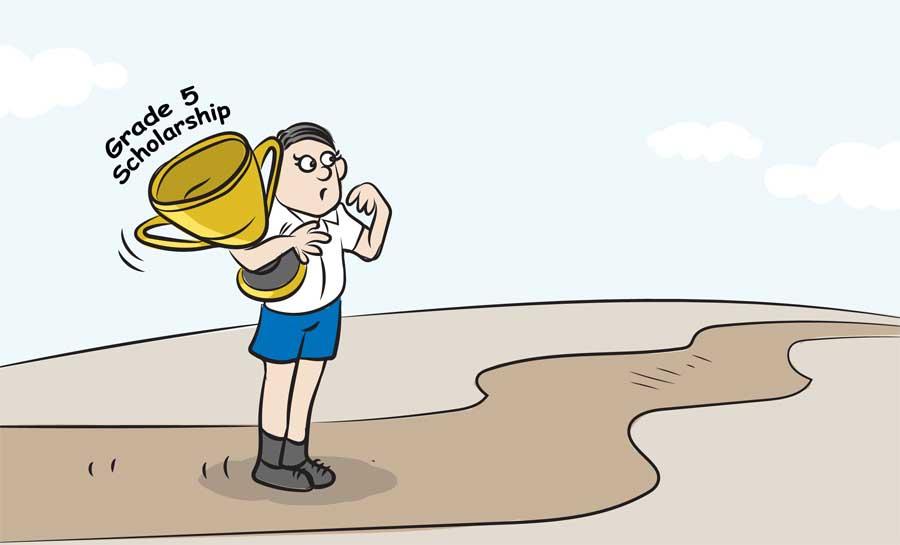 The much awaited scholarship exam for grade 5 students will be held on Saturday (January 22). It's still considered a dream come true for schoolboys and schoolgirls from lesser-known schools to do well at this exam and find popular academic institutions to continue with their education.
One cannot blame students for having this mindset. There is still a popular thought among ambitious villagers that if one wishes to do well that person has to come to Colombo or to an affluent city.

We hear of the hardships children experience in pursuing an education in rural areas. We have heard of children having to walk passing areas where elephants roam and even having to walk on unsteady bridges to get to school. Some schools don't have adequate teachers and even basic classroom facilities. For some subjects like art and music students of different grades and ages are put together during lessons because of lack of teachers and other basic facilities. These types of arrangements may blunt the growth of senior students when there is a common pool for education.

One little negative associated with children leaving the school that cut their teeth in education is that the old school is losing promising students. They build up budding students and other schools grabs them. This is heartbreaking for the teachers of the old school.
But there are teachers who facilitate the transfer of students to their new school thinking of a better future for their chargers. It's a known fact that students who come to Colombo from rural schools take the best use of facilities offered at their new found academic institutes. These students also step into a 'positive environment' and acquire the culture to prosper and be ambitious.

Unlike at local university the dress codes, during casual wear, will change as these students step into a much more affluent surrounding. Very few would not change. The village identity is soon lost. A Colombo boy or girl is born. Similar stories are heard from Kandy, Galle, Kurunegala and other happening towns where there are opportunities to pursue education and grow.
But parents must be careful when they support their children to make this switch. Children educating themselves in areas where there are facilities are lured into a rat race. After stepping into a competitive atmosphere these new kids on the block will soon find out that there are others who are already there who are working as hard as they. That old thinking that the 'outsider' is sharp and hungry is not that valid at present. Those who started in grade one are also equally ambitious. In most government schools newcomers find that most facilities are not idling. Others have started ambitious journeys before them.

In this environment one will encounter challenges to preserve ethics and courtesy and fair play. It's good to strive for excellence, but when one excels one must adopt a give and take policy. In towns where there are huge facilities for studies there are unethical ways used to destroy the competition. There is also an ugly side to competitive education.
However, these students excelling at the year five scholarship exam must dream big and realise their goals in education. This exam is one of the biggest competitive exams faced by children. May they hold their nerves and do well!