---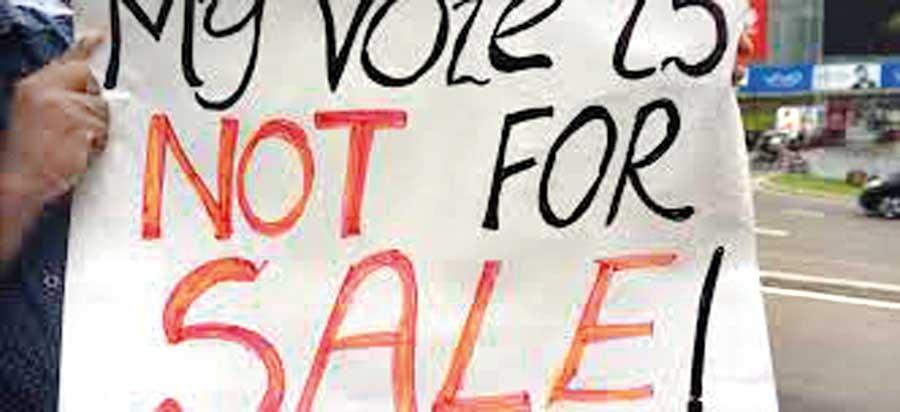 "Democracy is two wolves and a lamb voting on what to have for lunch."

- Benjamin Franklin (1706-1790)
According to our Constitution, Sri Lanka is a democratic socialist republic. In my opinion, ours is currently not a democratic state but only a constitutional republic. We employ democracy when we elect our President and representatives and it ends there.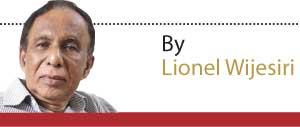 If we have a democratic system, everything – including rights, laws, will be decided by the consent of the majority. Since we are a republic, we elect individuals periodically to serve as our representatives where they take decisions on our behalf. Although they are legally bound by the rule of law and the sovereign rights of individuals they represent, those are only in paper. They do what they want to.
Such is the irony of our democratic republic system where rights and freedoms are preserved by the politicians in power and their cronies rather than the masses.
"Committed party loyalty, in both politicians and voters, ultimately leads to corrupt practices"
Educated electorate
If somebody asked you to name the cornerstone of democracy, probably, you would say free media! Some others will say, free speech or voting rights. However, the best answer was given by Thomas Jefferson, the third President of USA. He said, "The cornerstone of democracy rests on the foundation of an educated electorate."
His statement is valid even today. If we have an educated electorate, we would have an honest and respectable political representatives with efficient public service system. Also, we would be willing to engage in intellectually honest debates with politicians while respecting political opponents and their legitimate views.
Unfortunately, what is missing in Sri Lankan politics is just that. Since independence, we have elected the wrong type of politicians. Worst of all, since mid-70s, with the introduction of open economy, we were beginning to bring-in politicians who were absolutely corrupt.
Giving way to tyrannies
Our gurus have taught us that democracy is the will of the people, but if the people are clueless regarding what they have to do, then the essence of democracy doesn't exist.
In such situations, democracies give way to tyrannies when the emotional passions overpower political wisdom and a popular autocrat cum tyrant seizes the opportunity. He offers himself as the people's deliverer or champion. He becomes the ultimate saviour, the one man who guarantees a safe and ethical country.
Sounds familiar? With Rajapaksa regime, we had a glimpse of what this sort of evolution looks like. Now we have another strongman who confirms that he is the only person who can make the country a safe place to live again; he gives the people a familiar bogeyman, on whom they can dump their resentment. For a fractured and embittered citizenry, this can be a soothing balm, and, as Plato says... just the sort of thing that sends the country over a cliff. Perhaps we have survived last time, but walked right up to the edge of the abyss.
What happened to honest people?
Honest men and women generally cannot come into Sri Lankan politics, even if they want. It is very difficult to get elected as independent members because the campaign will cost them a fortune. The sponsors wouldn't be keen spending for independent candidates. Even if they offer support that means there will be "conditions." The current political system stops honest people from being elected.
Self-made corruption
As in most Republican countries, Sri Lanka has two powerful political parties. In every election, the governing power will be granted to one or the other of these two parties. The pattern continues and we cannot expect anything different in the foreseeable future.
Both these political parties have with them corrupt politicians. Big businesses donate large sums of money to them. In some instances, the same business enterprise might make donations to both parties. The voters are well aware of this but believe it is better than those costs coming out of taxes. But is it so? The owners of big businesses are not stupid; they would not make donations unless they believed that they would get multi-fold favours in return. Corporate political donations are another major form of political corruption in Sri Lanka. It is unlikely that any major political party will put a stop to this corruption unless being forced to do so.
"Honest people generally can't come into SL politics, even if they want"
Committed party loyalty
Committed party loyalty, in both politicians and voters, ultimately leads to corrupt practices. Loyalists get preference in securing employment or business deals over others. That is why, even when major parties become corrupt the loyalists stay with them. The politicians need to keep the loyalists happy because if they do not, they would be out of a well-paid job.
On the other hand, our political system itself has made it possible for members of Parliament and other bodies to become large-scale businessmen, flouting the law of the country. The income they earn through illegal business operations is enormous and very much more than the legitimate income they receive from public positions they hold. This can be considered another main cause of the corrupt nature of the Sri Lanka's politics.
Why elect corrupt politicians?
Now, let us face our main issue. If corruption is such a problem, why don't citizens simply vote such politicians out of office instead of juggling with them every five years?
There are a number of reasons.
The voter ignorance is a prime factor for which criminal or corrupt politicians win elections. Unlike in other countries, including India, Sri Lankan candidates are not required to publicly disclose their criminal records, in addition to their educational qualifications and financial details. And, it is not easy access this data for an average voter.
A voter might have a strategic rationale for electing a candidate with criminal or fraud allegations when one of the three conditions is present: weak or unevenly enforced rule of law, highly near explosive racial or religious divisions or pending a volatile situation like terrorist attack or continuous trade union action etc. In other words, when social tensions are rife and the credibility of the state is weak, many voters might seek refuge in the hands of strongmen who can fill in the vacuum.
A voter may be making a mental trade-off between honesty and competence. He may encounter a politician who is corrupt or dishonest, yet he might be willing to look the other way because he rates him to be highly effective in comparison with the other who may be honest. The difference between the two factors probably has a lot to do with the weakness of the state's legal system.
It also indicates a lack of faith in the integrity of the government. In a country where corruption is more widespread, even voters are not concerned about their representative's background. Their argument: "Everybody is corrupt, so what?"
If a politician is successful and rich in his private life before entering politics, common citizen believes that he is a respectable person and doesn't need to be corrupt.
Solution
The good news is that most of the citizens in the country are fed up with political corruption. The bad news is that the way many are fighting corruption is ineffective. The best remedy centres on finding and empowering an ethical leader who promises to stamp out the problem. Even he cannot do it himself because the malady is deep-driven. He needs smart laws that reduce the incentives and opportunities for corruption. However, it does not follow that an honest political leader is the only antidote to corruption.
Countries that bet on an honest leader to solve their problems almost always lose out. Sri Lanka is one example. In 2015, the current Government came to power promising to stamp out corruption.
And we know how that turned out. Citizens in Sri Lanka must no longer believe that corruption is inevitable or that it is futile to try to fight it. There is massive power of a well-organized civil society combined with technological innovation and information transparency in the public sector. Sustained public outcry will bring good results. Political mischief-makers do poorly on such soil.