---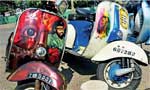 Donors said yesterday they would be forced to withdraw tens of millions of rupees if the Health Ministry went ahead with the plan to transfer the Vision 2020 Social Justice Unit to the College of Ophthalmologists.

For the past eight years the Vision 2020 Unit has carried out about 50,000 cataracts surgeries free of charge, mainly for poor people in rural areas. Vision 2020 was run by a National Steering Committee headed by eye surgeon Dr. Asela Abeydeera and was funded by generous donations from individuals and companies.

The Unit bought good quality lenses at about Rs. 2,500 each and with the basic surgical material needed, the total costs of the surgery was about Rs. 4,500. But it was done entirely free of charge for poor people through voluntary donations.

In contrast when such a cataract operation is done in a private hospital, the cost is about Rs. 50,000 to Rs. 60,000 with the lens alone priced at Rs. 20,000 to Rs. 25,000.

Even in public hospitals, though the operation is done free, even poor patients are compelled to buy a lens that cost between Rs. 20,000 and Rs. 25,000. As a result, according to a recent survey, more than 100,000 mainly rural poor people, suffering from cataracts run the risk of going blind, because they cannot afford the cost of the surgery.

It was in such a situation that Vision 2020 stepped in to do the cataract operation free of charge. Eye surgeons and others went to rural areas to carry out these operations for poor people. Vision 2020 has even built a fully equipped mobile eye hospital to go to remote areas in all parts of the country.
Though some eye surgeons supported this social justice mission there were others, who were not happy about it, apparently for financial reasons.

An active supporter of the Vision 2020 movement was the Health Services Director General Dr. Palitha Mahipala, who recently retired and joined the World Health Organisation (WHO). The subtle move to take over Vision 2020 began after he retired.

Vision 2020's coordinating office, which functioned from the Health Ministry for the past eight years is now to be moved to an office in the Colombo Eye Hospital and will be run by the College of Ophthalmologists.

Eye surgeon Dr. Asela Abeydeera, who had been doing an excellent job with sincere and selfless service to the poor, is to be moved out and Vision 2020 will be headed by another eye surgeon Dr. Ms. Muditha Kulatunga.

At a news conference held at the Oblate Missions Centre in Colombo yesterday the donors expressed shock and surprise as to why a mission, which was working so well and had plans to help about hundred thousand poor cataract patients, was now being handed to a group, which comprises public and private eye specialists with some of their family members known to be owning lens importing companies.

The donors said they feared that even poor patients who came to public eye hospitals for cataracts operations, would be forced to pay Rs. 20,000 to Rs. 25,000 for the lens. Most of them, who earn less than Rs. 5,000 a month, will obviously, be not be able to pay for such a surgery. That means they will gradually go blind and if the person concerned is the breadwinner, the whole family will suffer. So, will productivity.

The donors said yesterday if such a situation arose, they would have no option but to withdraw their donations. They said President Maithripala Sirisena, when he was the Minister of Health from 2010 to 2015, had actively supported Vision 2020 and they would appeal to him to intervene so that tens of thousands of poor people could be saved from the tragedy of going blind, because of some group's personal business interests.