---
Former president Gotabaya Rajapaksa, who even at the height of the political and economic crisis and his rapidly dwindling popularity, often boasted that the 6.9 million votes he garnered at the 2019 presidential election was a good enough mandate to continue in office and while a couple of weeks ago he had even told his party members that he did not wish to step down from the presidency as a failed president; in a dramatic turn of events and in the face of the unprecedented people's uprising, was compelled to flee Sri Lanka not only as a failed president but as an inefficient and incompetent occupant of the executive presidency leaving behind Sri Lanka in turmoil and at boiling point.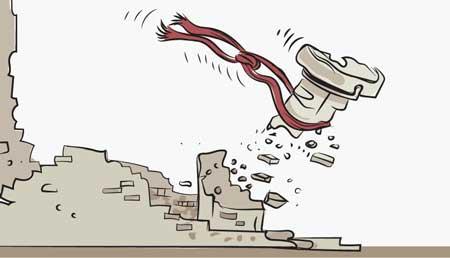 Given the current circumstances, it will by no means be an easy task for his successor to resuscitate Sri Lanka from the political and economic calamity that is threatening to strangle this country.

In the wake of beleaguered President Gotabaya fleeing the country under cover of darkness on July 13 even as thousands of protesters, determined and angry, stormed the president's official residence and his office, Prime Minister Ranil Wickremesinghe, by virtue of his office, was appointed acting president a day later on July 14, subsequent to Speaker Mahinda Yapa Abeywardena receiving the President's letter of resignation that too via email -- Mr. Wickremesinghe, who was at the right place at the right time -- was sworn in as the interim President of Sri Lanka.

Last Wednesday was a red letter day for the apolitical unarmed protesters especially the youth, who described themselves as part of the new generation and had as their main slogan #GotaGoHome. For the first time in the history of Sri Lanka's electoral process, the incumbent president was compelled to step down from the presidency before secretly fleeing the country to the Maldives and then to Singapore, not after being ousted at an election, but in the face of mounting pressure from angry people, who have had to pay and are paying an extremely high price for the former president's short-sighted, capricious and irrational policy decisions from day one of his tenure, resulting in Sri Lanka's worst-ever political and economic crises reminding us of this timeless quote from H. L. Mencken:

"On some great and glorious day, the plain folks of the land will reach their heart's desire at last, and the presidency will be adorned by a downright moron.

The popular people's uprising had earlier resulted in former president Gotabaya Rajapaksa fleeing from his private residence in Mirihana and last Wednesday from his well-fortified official residence in Colombo Fort, before finally fleeing from Sri Lanka leaving behind a bloodied, bruised and battered country.

Sri Lankans are known to have a short memory and often history has repeated itself for the important reason that it has been ignored. If it should happen again, we will undoubtedly be in a worst plight than we are currently in with the country in shambles. Please remember not to forget what we went through and are going through and make an informed choice at decision making times. Let there be no place in our country and in our political culture any more for scheming politicians who fan the flames of communal, ethnic and religious divisions like it has repeatedly happened in the past.

In the aftermath of the detested Rajapaksa legacy now in smithereens, comes the hard part, that of building a new Sri Lanka with the cooperative and collective effort of every single child of Mother Lanka with the political establishment having to give particular heed to the "GotaGoGama" message for an all-party interim government different from the present model of governance where opportunistic, self-serving and scheming will find no welcome in new and renewed Sri Lanka.

The months' long countrywide street protests, which culminated on April 9 at the Galle Face Green in the vicinity of the presidential secretariat, the epicenter of the 'Aragalaya or the 'Struggle' underscored the fact that no matter where we are from -- the North, South, East or West or what religious persuasion we adhere to whether Buddhists, Hindus, Christians, Muslims or free-thinkers, we are sons and daughters of our dearest Mother Lanka.We have a long way to go as we come to grips with reality, but we will eventually get there if we begin moving right now and in the right direction all the while not forgetting but learning from history.