---
Sri Lanka should not let it being taken as bait in a larger geopolitical scheming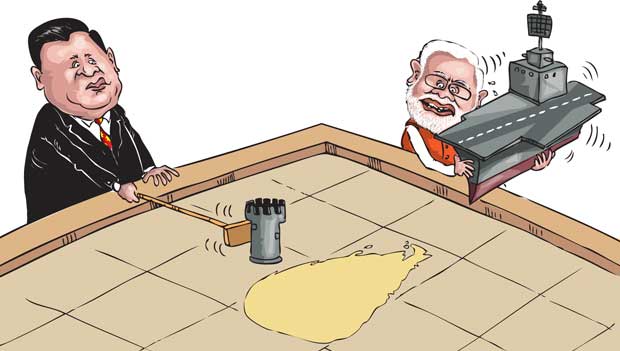 There was this rather intriguing article in Forbes, which read as:
"After claiming South China Sea to be its own sea, telling America to stay off its islands, China is reaching for the Indian Ocean, telling India to stay off its own colony, Sri Lanka."

My first impression was that it was something that had been lifted from a pamphlet of Rudrakumar's Transnational Government of Tamil Eelam.

Usually it is those types who strive to pick the most demeaning of words to call us out. But, this time it happened to be not the case. Anyway, sometimes using wrong loaded words in the wrong context is no less stupid than undressing in public to impress bystanders.

India-China competition for power in its extended neighbourhood is as old as the birth of the two new states, India in 1947 and Communist China in 1949.

John Garver, an academic, called it 'an enduring rivalry… rooted in the decades-long, multi-layered and frequently sharp conflict.'

It remains so, and will even become acute as two the countries acquire additional power - until one day, if ever, convergence of internal characteristics of two countries will moderate rivalry. Unlike realists (Who think all states are alike except in differential capability) many liberal theorists believe liberal states are less inclined to balance a fellow Liberal State.

That prospect is however a long shot given the contrasting internal systems of two States, though one would say another factor, economic interdependency may have a moderating effect.

Why we hear too much of this India- China competition these days is for two reasons; one is of course the most obvious; as two rising powers accrue incremental power, they expand their influence in their neighbourhoods and beyond.

That has been the case throughout the history of international politics and it will be the same in the future- though mode of the expansion has changed, from gun boats and territorial conquest in the past to something more akin to influence-peddling at present.

The other reason is also important. When a rising power expands its influence, other regional states tend to gang up to balance it.

However, strangely for a great power contender, but not so strangely for India, of which dominant Nehruvian ideology loathes power politics, India has been wary of being part of an external balancing strategy against China. The United States is looking to increase its presence in the region through the Pivot to Asia Pacific and has actively lobbied for an Indian role in it.

However, when Leon Pennetta, former Defence Secretary described India as the 'Lynchpin' of the Pivot, A.K. Antony, India's Defence Minister under the Manmohan Singh administration reportedly told him that India has no desire to be a part of America's pivot.

Prime Minister Manmohan Singh called the Pivot as a 'development fraught with uncertainty.'

For the entirety of two terms of the Congress Government, New Delhi did not sign three basic foundation agreements, which had been on the table since 2002, that the US enter into with any prospective defence partner.

Though those were well short of any kind of military alliance and that both India and the US have entered into similar agreements with several dozen countries, India cited its abiding concerns of its strategic autonomy as a reason not to sign the agreements. (For instance, long before India signed a Logistical Sharing agreement with the US last year, Sri Lanka had two both with India and America)
That reluctance and vacillation towards a strategic partnership somewhat declined under the BJP administration of which world view is shaped by Hindutva realism, which may encourage it to exploit systemic opportunities proactively, without being tied to ideological rhetoric of Nehruvianism.

However, even then, India was not a fully convinced supporter, though Mr. Modi told the American Congress, that the two countries had overcome 'the hesitations of history'.

Even recently after a Pentagon spokesman told media that India and America had agreed to conduct joint naval patrols, New Delhi swiftly said, it has no plans to do so.

However, now with Mr. Trump in office, that relationship, like many others is in a flux. With Mr. Trump's America First policy, no State, even America's major allies in the EU wants to be taken for
a sucker.

Indian hesitations could well grow. In order to entrap India even in the minimalist alignment that had been secured under the Obama administration, a degree of scaremongering would be useful. States tend to shed their ideological and domestic trappings, when their external vulnerability shoots up.
Small states like ours have no power to influence those systemic patterns in the international system, but a smart government should know how to exploit opportunities and avoid dangers. At minimum, we should not let us being taken as bait in a larger geopolitical scheming.

Overly Chinese presence in Sri Lanka would have long term consequences for India. Sri Lanka should try to offset it with enlisting more states, and most importantly India. Why the Chinese economic presence in this country is depicted as a bogeyman in some quarters is mainly due to India's absence.

There are two obvious factors that contribute to limits of Indian economic presence: A State's external behaviour is first and foremost predicated by its relative power.

India's economy is only a fifth of China's USD 10 trillion economy, which should explain the different level of capabilities.

Second is the State power, in this case the Government's ability to extract and utilise national resources to its foreign policy goals.

India's Government has limited sway over its multinationals, some of which are among the largest investors in the EU, but do very few investments in India's neighbourhood. That may also explain why South Asia is one of the least economically integrated regions. Whereas China's State firms march to the orders of the party State, of which investments betray Beijing's long term ambitions.

We have so few real Indian businesses investing in this country whereas the Chinese have pledged some of the most transformative investment projects, two of which obviously are the Colombo Port City and the Hambantota Export Processing Zone.

The sad truth is after over three decades of economic liberalisation, we have not managed to secure a windfall from the world class IT industry, services, or automobile industry that flourish across the Palk Strait.

Why this happened is due to our insulation from global supply chains, which has over the time made us less competitive, while we continue to hallucinate that we have the best doctors, best IT graduates, best that thing and this thing.

We will have to fix that problem and to do that to bring down protectionist barriers and overly paternalistic labour and land laws, which in reality entrench poverty and under achievement.
But as we have seen recently, the Government has very little autonomy from social pressure to implement practical measures, be it signing of ETCA, negotiating of free trade agreements or land acquisition to reach those ends.

The danger of this policy paralysis is not just economic stagnation. If the asymmetry between Indian and Chinese perceived influence and presence in Sri Lanka widens further, at one point, Indians would view this as a zero- sum- game. Then repercussions would not be nice.

We have seen how it unfolded in the 80s. We should not let anything remotely similar to happen.
Follow RangaJayasuriya @RangaJayasuriya on Twitter.