---
The United States' legendary president Abraham Lincoln is admired worldwide as the godfather of democracy.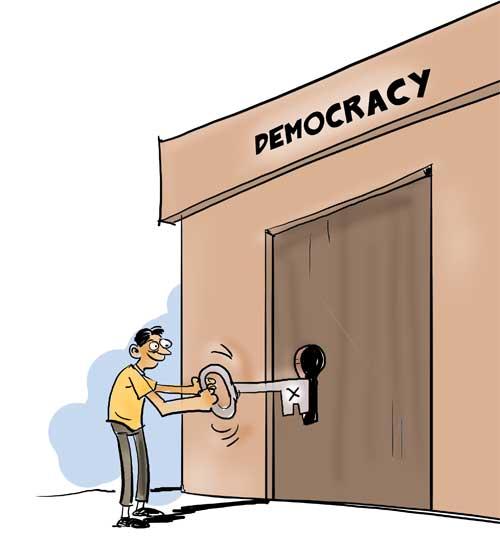 From his wisdom, working knowledge and experience he has said "Elections belong to the people. It's their decision. If they decide to turn their back on the fire and burn their behinds, then they will just have to sit on their blisters." With the present US president Donald Trump—widely described by political analysts as being dangerously unpredictable and a pathological liar—threatening to plunge one of the world's most liberal democratic countries into a sinister type of authoritarianism—president Lincoln's wisdom and warnings are vital for the survival and sustenance of a people centred democracy.
Coming from the log cabin to the White House, president Lincoln has also said that nearly all people can stand adversity, but if you want to test their character, give them power. He has also said the people are the rightful masters of both Congress and the courts, not to overthrow the Constitution but to overthrow the people who pervert the Constitution. President Trump appears to be perverting the Constitution. One of president Lincoln's greatest sayings—so widely quoted that it has become a cliché though an important one —is that, democracy is a government of the people, for the people and by the people.

We hope Sri Lanka's voting people will keep these and similar reflections in mind when exercising their sovereign power at today's general election. The people need to remember that a political leader's real character is tested when he or she is given power, especially the unlimited executive power that was exercised before the 19th amendment was implemented in April 2015. After president JR Jayewardene enforced the executive presidential system in 1978 we have heard political leaders giving repeated pledges that this authoritarian system would be abolished but little or nothing was done until the 19th amendment was implemented. That amendment had many provisions to restore parliamentary democracy with a delicate balance among the executive, the legislature, the judiciary and the free media.
Now the main party leaders are again talking about consolidating the executive presidential system at a time when parliamentary democracy and judicial independence, which thrived for some time are again being threatened while the free media is largely a concept and social media is like a mini Donald Trump, telling lies, more lies and lies to cover up those lies, creating a crisis —where the mountain of lies will fall on the ordinary people and crush them. Tragically, Sri Lanka's parliamentary democracy over the years has become a business and now it is big business, with a few exceptions. Politicians come to power with a promise they would be servants of the people and work in the highest interest of the country. Unfortunately, a larger number of politicians who came from lower middle class or poor families made so much money that they built mansions for themselves with even air conditioned wash-rooms.
Today's general election is unprecedented in many ways because it comes amid the COVID -19 pandemic. Strict health regulations are to be enforced in addition to election laws. That is why the Election Commission's outspoken Chairman Mahinda Deshapriya has appealed to the people to vote early with the process starting at 7 a.m. He has warned that waiting till late in these days of bad weather, may cause additional problems especially in maintaining the physical distancing of at least one metre. Despite the threat of a hike in the Corona pandemic, we hope responsible citizens will take the risk and cast their vote.
In an election-eve statement the congress of religions has appealed to the citizens to exercise their right to vote. It is the moral obligation of every citizen to use his or her sacred right to vote for a person of their choice at this decisive moment in the country's history. It also urges every citizen to vote for politicians who are qualified and suitable with no track record of being involved or being associated with corruption or criminal activities, those who can serve the needs of the people with humility and lead a simple life.
As president Lincoln has said, we hope voters will remember money will cease to be master and become the servant of humanity. Democracy will rise superior to money power.